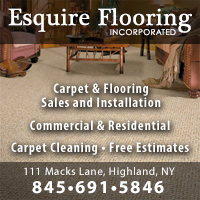 Esquire Flooring, Inc. located at 111 Macks Lane 9W in Highland, NY has been providing professional carpet & flooring sales and installation services to their customers in Ulster County, NY, Dutchess County, NY and the greater Hudson Valley, NY region since 1987. Esquire Flooring does it all - from carpet & laminate wood flooring sales and installation, to steam extraction carpet cleaning services. Call for a free estimate.
Esquire Flooring will gladly consult with you regarding any of your flooring design questions and/or concerns - no job is too big or small and every job is treated as our very first job, with a professional enthusiasm for perfection and pleasing the customer.
Just as a picture frame can often "make" a picture, so can flooring "make" the room - at Esquire Flooring, Inc. in Highland, NY they proudly feature a wide variety of quality carpet and wood flooring products in the Hudson Valley to make any room classy, comfortable and beautiful.
Call or stop in today and see why Esquire Flooring, Inc. has been providing quality carpet and flooring sales & installation services to their cutomers in the Hudson Valley for over 32 years.