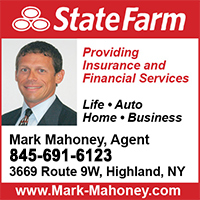 Mark Mahoney's State Farm Agency located at 3669 Rte. 9W in Highland, NY offers auto insurance, car insurance, boaters insurance, home owners insurance, premium life insurance and other insurance & financial products to the families and business owners in Highland, Milton, Plattekill, Clintondale, West Park and the surrounding local Town of Lloyd, NY area.
At Mark Mahoney State Farm Insurance their mission is to develop a relationship with their customers, learn what is important to them, and help them to achieve their goals by providing solutions to their insurance and financial services needs.
Mark has been faithfully serving these needs of State Farm customers since 1987, and he has developed a strong reputation in the local area for being honest, ethical, and an advocate for both State Farm and his customers.
A successful relationship with your insurance professional is one based on trust - and Mark and his team are prepared to earn yours! Mark Mahoney State Farm Insurance in Highland, NY is available to assist you with all of your insurance needs; Auto, Homeowners, Renters, Commercial, and Life Insurance.
Mark Mahoney State Farm Insurance has all the quality State Farm Insurance products - auto & car insurance, home - life - renters, business and personal, as well as quality life insurance packages.
So please give them a call, stop in, click on their website or email them to get a free quote today.
They can be reached by phone at (845) 691-6123, by email at mark@markmahoney.net, or visit their website at https://www.mark-mahoney.com/They are also on Facebook at Mark Mahoney- State Farm Agent - so check them out and "like" their page.
Like us on facebook!
https://www.facebook.com/pages/Mark-Mahoney-State-Farm-Agent/108952365861327
Please call or stop in today for a free quote, or insurance consultation
About Mark Mahoney - Focusing on relocations to the Lower Hudson Valley Hudson Valley. Resident since 1996. Member Southern Ulster Co. Chamber of Commerce. Member of the Highland Rotary Club. Associated with State Farm since 1987. Member of the New Paltz Chamber of Commerce. Brandeis University, Waltham, MA, B.A. .National Association of Insurance & Financial Advisors.