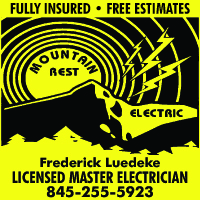 Mountain Rest Electric provides professional and reliable electrical contracting services, and is a local licensed & insured electrician servicing the Rosendale, Highland and New Paltz, NY area. Mountain Rest Electric specializes in electrical service up grades, installation of lighting & expert electrical trouble shooting, as well as electrical work for new construction, additions and renovations.
Family owned and operated, Mountain Rest Electric has been serving the electrical contracting needs of their customers in Ulster and Orange Counties for over 30 years.
Owner Frederick Luedeke is a licensed & insured electrical contractor, providing the best in electrical contractor services at a fair and reasonable rate - no job is too big or small.
Mountain Rest Electric provides electrical contracting services for new construction, commercial, industrial and farm wiring, and also provides the best electrical services for new construction, additions, renovations - as well as upgrading, service work, and trouble shooting.
Frederick "Rick" Luedeke is a licensed master electrician who is fully licensed and insured in both Orange and Ulster Counties - every job is done to perfection to your complete satisfaction and peace of mind.
Please call Mountain Rest Electric today for a free estimate on any job - they are available for all of your electrical contracting needs and services at a fair and reasonable rate.
LICENSED & FULLY INSURED ELECTRICIAN - FREE ESTIMATES
Mountain Rest Electric - Providing The Best Quality Electrical Contracting Services To Their Customers In The New Paltz, Highland, Stone Ridge, High Falls, Cottekill, Rosendale, Tillson, Rifton and Esopus, NY Area.