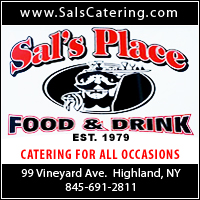 Sal's Place located at 99 Vineyard Avenue in Highland, NY is a locally owned family friendly restaurant & pub and sports bar that serves a diverse lunch and dinner menu and features the latest great TV sports packages & NFL package to give you what you truly want most, totally unlimited sports in a clean, friendly and comfortable atmosphere. Sal's Place serves lunch & dinner with daily specials 7 days a week.
Sal's Place in Highland proudly offers an authentic and diverse menu with generous lunch and dinner dishes and specials sure to please your palate, and your wallet - at Sal's Place you can enjoy fresh food and refreshing drinks at family friendly prices, while watching your favorite sports team year round.
More importantly, at Sal's Place you can choose from many different, expertly crafted dishes from our lunch and dinner menu and satisfy your hunger at a fair & reasonable price, and their bar is outfitted with the latest TVs and sports packages to give you what you truly want most – unlimited sports!
Sal's Place Professional Catering Services in Highland, NY - Sal's Place features on & off site catering services to their customers in Highland, Milton, Marlboro, the Town of Marlborough, NY and surrounding Ulster County, NY communities.
When you choose Sal's Place Catering Services in Highland to cater your private party or corporate/business event, you will give your guests a memorable experience of simply amazing food. Sal and his catering chefs will personally meet with you to customize a menu that is perfect for your catered event - and your budget!
SAL'S PLACE - YOUR NEIGHBORHOOD RESTAURANT & TAVERN
Like Us on facebook!