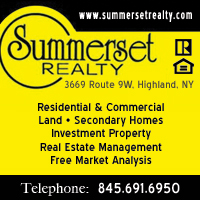 Summerset Realty is a realtor and real estate office located in Highland, NY in Ulster County, NY that provides commercial and residential real estate services and real estate listings for their local customers in Highland, Milton, Marlboro, Plattekill, Modena, the Town of Lloyd and surrounding local Ulster County, NY Communities. Summerset Realty also provides real estate management services.
Summerset Realty is a realtor and real estate office serving Orange, Ulster, Dutchess and surrounding Hudson Valley, NY Counties.
Summerset Realty is conveniently located in the scenic Hudson Valley just minutes from the NYS thruway and the Mid Hudson Bridge spanning between Highland and Poughkeepsie, New York.
Summerset Realty is a full service brokerage for Residential, Land, Investment, and Commercial properties, and they are here to help you sell your property as quickly as possible - or to help you find your dream home!
When making your choice to find a reliable, trustworthy and professional Real Estate company to represent you . . . look no further!
At Summerset Realty in Highland, NY, their hard working real estate agents will be glad to help you find a home that suits both your needs - and your lifestyle.
More importantly, they have many years of experience in the Real Estate business, and are well equipped to service their clients who are interested in selling and/or buying a residential, commercial, land, farm or investment, property in the Hudson Valley.
The Summerset Realty agents take pride in their work and strive to excel in their performance in every negotiation & sale, and each agent brings their unique attributes and experience to achieve a smooth real estate closing transaction.
Centrally located in Highland, NY, Summerset Realty is able to serve a very large area on both sides of the Hudson River in the beautiful and historic Hudson Valley, and they are Multiple Listing Service members in New York State, Ulster and Dutchess counties.
Commercial & residential real estate listings in Marlboro, Milton, Highland, Town of Lloyd, Town of Esopus, Town of Plattekill and the surrounding Hudson Valley, NY area.
REALTOR & REAL ESTATE SERVICES IN MARLBORO, MILTON & HIGHLAND, NY
Summerset Realty - dedicated in bringing you to a successful transaction, sale and closing.