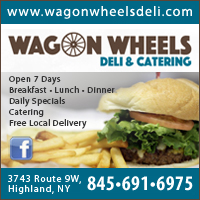 Wagon Wheels Deli located at 3739-3743 Route 9W in Highland, NY is a deli in Highland, NY that serves breakfast, lunch and dinner 7 days a week - and provides professional catering services to to their local customers in the Highland & Town of Lloyd, NY area. Wagon Wheels Deli features the best breakfast sandwiches in Highland, and daily lunch specials & hot plate dinners.
Wagon Wheels Deli is family owned & operated so the portions are always generous, the quality is always excellent, and the prices always fair - why go anywhere else?
Wagon Wheels Deli offers a wide variety of fresh home-made breakfast, hot lunches & dinners, soups, salads, wraps, burgers and subs - with daily and weekly specials to keep your palate curious and interested. Wagon Wheels Deli has got it all and it's always made fresh for you!
Wagon Wheels Deli Catering Services in Highland, NY:
Wagon Wheels Deli features professional catering services for private parties, corporate events and special occasions in the Highland, NY and surrounding Town of Lloyd communities.
There is no catered event is too big or small, because Wagon Wheels Deli does them all! Graduations, proms, surprise parties, sporting events, and anniversaries - Wagon Wheels Deli in Highland will privately consult with you to put together a menu that will suit both your personal needs and budget.
DELI IN HIGHLAND, NY - BREAKFAST SANDWICHES - DAILY LUNCH AND DINNER SPECIALS - CATERING SERVICE IN HIGHLAND - LOCAL DELIVERY
Like Us on facebook!
https://www.facebook.com/pages/Wagon-Wheels-Deli-Catering/231181630367?v=info