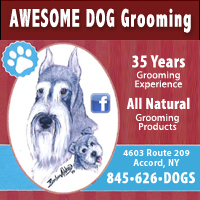 Awesome Dog Grooming located at 4603 Route 209 in Accord, NY is a full service pet groomer & dog grooming shop providing the best professional dog grooming services to families of dog lovers in Kerhonkson, Accord, Rosendale, Cottekill, Stone Ridge, High Falls, Tillson, Rifton and the surrounding area. For over 35 years Awesome dog has specialized in gentle dog grooming techniques.
Awesome Dog Grooming in Accord, NY provides dog grooming services, and dog and pet grooming services in Ulster County, NY.
Owner/operator and dog groomer (...and dog lover!) Barbara Wood has over 35 years of compassionate and professional dog grooming experience, and is committed and fully dedicated to bringing the awesome out in your dog!
Large or small, Awesome Dog Grooming in Accord, NY can handle any size dog - and Barbara specializes in gentle and compassionate dog grooming techniques sure to wag any tail!
Dogs and their families throughout the Kerhonkson, NY, Accord, NY, Stone Ridge, NY, High Falls, NY, Cottekill, NY and the Rosendale, NY area trust Barbara Wood at Awesome Dog Grooming in Accord for all of their dog grooming needs, because Barbara treats your dog as if it were her own - with love!
Please consider Awesome Dog Grooming in Accord, NY for all your dog grooming needs!
AWESOME DOG GROOMING ~ BRINGING OUT THE AWESOME IN YOUR DOG! OVER 38 YEARS GROOMING EXPERIENCE - FEATURING ALL NATURAL GROOMING PRODUCTS
Like Us on facebook!