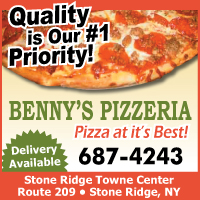 Benny's Pizza located at the Stone Ridge Towne Center on Route 209 in Stone Ridge, NY is a pizzeria and pizza restaurant in Stone Ridge featuring the best pizza and best Italian dinners in Marbletown - from traditonal pizza, gourmet pizza's, hot & cold subs, pasta dishes and Italian dinners, are all served fresh and hot with the freshest & finest ingredients. Call Benny's for their catering menu & prices, today!
It's no secret... the best pizza & hot italian dinners in the Stone Ridge, High Falls, Town of Marbletown, Kerhonkson, Accord, Town of Rochester, Rosendale, Cottekill, Tillson, Rifton and the Town of Rosendale is at Benny's Pizza.
Benny's Pizza treats you like family, because Benny's is family owned and operated. Benny's Pizza in Stone Ridge uses only the freshest and finest high quality ingredients - and you can taste them in every bite!
Benny's Pizza proudly offers a broad menu to please both kids and adults, from your favorite classic pizza and appetizers, to full Italian hot dinners. Benny's has all your favorites! For over 25 years
Benny's Pizza in Stone Ridge, NY has consistently served excellent high quality food at affordable and fair prices - all in a clean, warm and friendly family atmosphere. Stop in today and join our family!
BENNY'S PIZZERIA - QUALITY IS OUR NUMBER ONE PRIORITY! TRADITIONAL PIZZA - SPECIALTY PIZZA'S - HOT & COLD SUBS - PASTA DINNERS - HOT ITALIAN DINNERS - CALZONES & ROLLS - FRESH SALADS
Like us on Facebook! https://www.facebook.com/BennysPizzaNY/
For over 25 years, Benny's Pizzeria in Stone Ridge, NY has served their community with delicious, quality food. They serve pizza, paninis, salads, sandwiches, pasta dishes, entrees, wraps, and so much more, and they've built their reputation by using only the freshest ingredients, and providing their customers with family friendly service and quality.