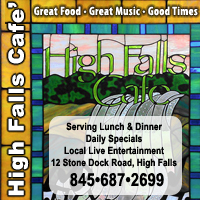 The High Falls Cafe located at 12 Stone Dock at the Stone Dock Golf Course in High Falls, NY is a local restaurant & bar serving the Stone Ridge, High Falls, Cottekill and Rosendale, NY area with excellent food from a diverse menu, using locally sourced produce and the freshest ingredients - with a full service bar featuring a delicious wine list and 10 beers on tap. Great food - Great music - Great times!
The High Falls Cafe features great live entertainment on the weekends and seasonal outdoor dinning.
At the High Falls Cafe they take great pride in offering you an excellent dining experience, and their menu was created by using as much locally sourced produce and fresh ingredients as possible. Enjoy a great night of food, music and drink - their full service bar has 10 beers on tap, including local and seasonal favorites.
A delicious selection of wines is also available including the rare Carmenair, as well as fabulous cocktails and tasty maritini's. The High Falls Cafe also features seasonal favorites like fresh mint mojito's, house made Sangria - or try one of their famous house made Bloody Mary's! Like it hot? Add some Siracha Vodka!
Family owned & operated since 2005, the High Falls Cafe proudly boasts themselves as a "scratch kitchen" where all of their dishes are made to order with fresh, natural ingredients, and their chef/owner is a graduate of The Culinary Institute of America.
From their tantalizing appetizers, homemade soups & chili, fresh crisp & creative salads, classic burgers with your favorite cheese & toppings and great sandwiches - to their creative & satisfying entrees and tasty homemade desserts, it's all here at the High Falls Cafe at Stone Dock Golf Course in High Falls, NY.
High Falls Cafe Catering Services - Please consider the High Falls Cafe for your next private party or catered event. Owners Buffy & Brian will meet with you personally to customize a menu that is perfect for your private party or special event, and more importantly - one that will work within your budget!
The High Falls Cafe features on and off site professional catering services, please call today for details!
Like us on Facebook! https://www.facebook.com/highfallscafe1/
High Falls Cafe Breakfast, Lunch & Dinner Menu Link: