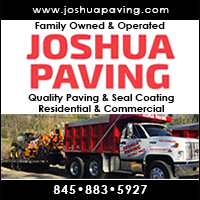 Joshua Paving located locally in Clintondale, NY is a family owned and operated local asphalt paving and asphalt sealcoating business that provides quality driveway & parking lot paving and sealcoating services to their customers in the Saugerties, Kingston, Rosendale, Stone Ridge, High Falls, New Paltz, Gardiner, Beacon, Esopus, Town of Plattekill and surrounding Ulster County, NY communities.
Joshua Paving YouTube Video Link:
https://www.youtube.com/watch?v=nOiL1xKQAls
Joshua Paving provides the best asphalt paving and best sealcoating services in Orange, Ulster & Dutchess County, NY.
Just as a picture frame can enhance a picture, a driveway or parking lot can enhance a home or business. Joshua Paving can improve the look and value of your property with a beautiful new asphalt driveway or black top parking lot - and make the path to your home or business look beautiful and inviting.
Remember, a first impression can mean a lot! Joshua Paving & Sealcoating has been faithfully serving customers in the Saugerties - Kingston, NY area and surrounding communities for many, many years.
Joshua Paving is conveniently located in Clintondale, NY and provides the best asphalt paving and sealcoating services with free estimates and site consulting. More importantly, Joshua Paving is family owned and operated, so you can feel comfortable with the job - no matter the size - from start to finish.
In the Northeast a driveway or parking lot can take a real seasonal beating. When those "spider cracks" start appearing, call the experts at Joshua Paving to help prevent costly future re-paving with our professional sealcoating process, and insure a durable long lasting driveway that will hold up for years to come.
Free Estimates cost nothing - call Joshua Paving today for all of your asphalt paving, blacktop and seal coating needs in the Hudson Valley and the greater Saugerties, Kingston, Rosendale, Plattekill, Highland, Port Ewen, Town of Esopus, New Paltz, Beacon, Town of Fishkill and the surrounding Hudson Valley, NY area.
Like us on Facebook! https://www.facebook.com/joshpave/
FAMILY OWNED & OPERATED OVER 25 YEARS - QUALITY PAVING & SEAL COATING SERVICES - RESIDENTIAL & COMMERCIAL - FREE ESTIMATES
JOSHUA PAVING - ROLLING OVER THE COMPETITION!
WE PAVE AND SEAL COAT IT!
Joshua 24:15