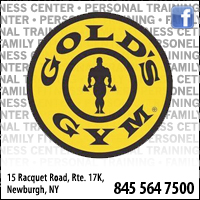 Gold's Gym in Newburgh, NY is a gym and fitness center in Newburgh that proudly features the best in personal fitness, fitness training and personal training - with the most modern up-to-date fitness equipment, cardio equipment, fitness classes, cardio training equipment and cardio training in the Newburgh, Montgomery, New Windsor, Walden, Town of Newburgh and surrounding area.
AWARDED BEST IMPROVED GYM IN NORTH AMERICA - GOLD GYM NEWBURGH! CHECK OUT THIS INCREDIBLE YOUTUBE LINK:
https://www.youtube.com/watch?v=cA9upIbo4q8
Staying in shape and maintaining a healthy lifestyle requires a steady commitment of discipline that can often be difficult in your busy day to day routine.
When you need that little extra push, Gold's Gym located at 15 Racquet Rd in Newburgh, NY convenient to Montgomery, Maybrook, Walden, Wallkill, New Windsor and Marlboro NY is your healthy lifestyle solution!
Whether you are a novice, or an experienced health-nik, Gold's Gym in Newburgh can customize a work out routine and schedule that compliments YOU!
At Gold's Gym in Newburgh you'll find all of the latest cardio and strength training equipment along with a dynamic group exercise program that includes classes like yoga, group cycling, mixed martial arts, muscle endurance training and pilates.
Gold's Gym's are built to help people realize their goals and find their inner strength, and they combine the most diverse amenities in the industry with the best personal training to deliver the ultimate fitness experience.
More importantly, you'll find an energetic, supportive environment full of all kinds of people who are committed to achieving their fitness goals - just like you!
Today more than ever, people are looking for strength. Whether it's the strength to be a better parent, the strength to overcome diabetes or the strength to be a better athlete - strength comes in many forms.
At Gold's Gym, they recognize that everyone has their own strength - their job for over 45 years has been to help you find it.
Just starting out and a little apprehensive? Gold's Gym Newburgh, NY location has the best staff and trainers in the Hudson Valley who will assist you in achieving and maintaining your personal fitness goals.
Stop in today for a free consultation and a tour of their NEW modern Newburgh health facility, or click from this page to the Newburgh Gold's Gym web site for a free one day pass - some restrictions apply
Like Us on facebook!
https://www.facebook.com/GoldsGymNewburgh
Gold's Gym Bloopers Video:
https://www.youtube.com/watch?v=umAySpI-JnE

Gold's Gym of Newburgh - Know Your Strength!
STOP IN TODAY AND TOUR THE NEWLY RENOVATED, STATE OF THE ART GOLD'S GYM FITNESS FACILITY IN NEWBURGH - YOU WON'T BELIEVE YOUR EYES! THIS IS TRULY ONE OF THE MOST MAGNIFICENT AND MODERN GOLD'S GYM IN THE COUNTRY!!!