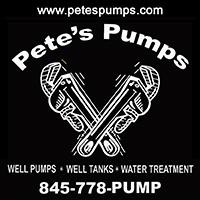 Pete's Pumps located in Orange County, NY specializes in water pump and well pump replacement & repair services, sewer pump repairs, well pump repairs and replacement services, hot water tank repairs & replacement services, centrifugal pumps, constant water pressure issues and water treatment systems repair & installation services in the general Orange County, NY area.
Pete's Pumps provides complete water pump, well pump, sewer pump and water tank replacement & repairs and water treatment repairs & installation systems to their customers in Pine Bush, Bullville, Town of Crawford, New Paltz, Wallkill - Town of Shawangunk, Circleville, Bloomingburg, Town of Wallkill, Ellenville, Town of Wawarsaing, Washingtonville, Montgomery, Marlboro, Milton, Town of Marlborough, Walden, Maybrook, Town of Montgomery, Campbell Hall, Rock Tavern, the Town of Hamptonburgh and surrounding Orange County, NY communities.
From water treatment systems, water pressure issues, boiler repairs and water tanks, to commercial wells and sewer pumps - Pete's Pumps in Orange County, NY services and installs them all.
Pete's Pumps Specializes in well pump repairs and complete well pump replacement services!
At Pete's Pumps their company provides the highest quality plumbing and heating services no matter how small the job - whether you're in need of a pressure switch change out or a full well pump water treatment system, Pete's Pumps will get the job done in a timely and professional manner.
Pete's Pumps is the plumbing, well pump and local water treatment company to call when you need prompt, friendly, professional and reliable service, and they have been raising the bar for premier well pump and water treatment services in The Hudson Valley since 2004.
Pete's Pumps is fully licensed & insured and registered with the D.E.C.
PETE'S PUMPS - They Specialize In Putting Pressure Where It Belongs, In Your Water System... NOT Your Wallet!​