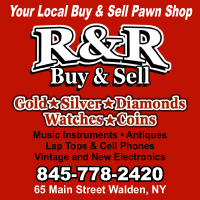 R&R Buy & Sell located at 65 Main Street in Walden, NY is a pawn shop in Walden that is honest & reliable, and specializes in the buying and selling of gold, musical instruments, vintage electronics, new electronics, jewelry, watches, cameras, coins and collectibles, cell phones, DVD players, video games and gaming systems in Walden, Wallkill, Pine Bush and the Montgomery area.
R&R Buy & Sell is your local buy and sell pawn shop, providing buy & sell pawn shop services in the Walden, Montgomery, Maybrook, Town of Montgomery, Village of Wallkill, Town of Shawangunk, Pine Bush and Town of Crawford communities - with fair, honest and reliable pawn and buy & sell services.
R&R Buy & Sell specializes in buying gold, musical instruments, new & vintage electronics, coins & collectibles, vintage purses & luggage, video games and gaming sytems, Vintage albums & CD's, power tools, classic housware items and cell phones - bring them to us first for a fair and honest price!
Established in 2004, R&R Buy & Sell has a solid reputation second to none in the Hudson Valley, with 22 years experience in the business and over 8 years in our current location in Walden, NY.
More importantly, at R&R Buy & Sell in Walden, customers can shop and sell with comfort, confidence & ease knowing they will be receiving the true value for their items, and also not overpaying for the merchandise in their store.
Call or stop in today - their store is filled with a little bit of something for everyone, and their customer friendly service is sure to please and put you at ease!
R&R BUY AND SELL ~ Your Local Buy & Sell Pawn Shop!
Like Us on facebook! https://www.facebook.com/randrwaldenpawn/