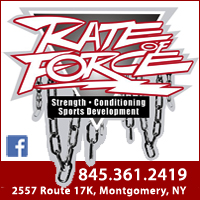 Rate of Force Strength & Fitness Conditioning located at 2557 Route 17K in Montgomery, NY is a strength training & conditioning and fitness training & sports development gym that specializes in sports training and performance enhancement for athletes in Pine Bush, Montgomery, Bullville, Middletown, Scotchtown, Circleville, Bloomingburg, Wurtsboro, Town of Mamakating, and surrounding local communities.
Rate of Force Strength & Fitness Conditioning provides quality custom physical assessments and personal training & physical rehabilitation services, and is a local professional sports conditioning and physical preparation & training center where serious athletes can focus on specific strength & conditioning exercises to help enhance their sports performance skills, so as to excell in their sport of choice.
Through video analysis and functional movement screenings, the professionally trained fitness staff at Rate of Force Strength & Fitness Conditioning can isolate and focus on areas of concern; and with a custom physicall assessment, help customize an exercise routine that will more quickly and efficiently help the athlete acheive their fitness goals.
Rate of Force in Montgomery, NY also specializes in weight loss, injury prevention, corrective exercises and physical rehabilitation instruction for athletes on the mend.
Rate of Force Strength & Conditioning is open to athletes at all levels, and they also feature complete adult fitness programs, a specialized baseball conbine, arm care programs, video analysis and body fat composition screening using state of the art ultra sound technology.
More importantly, the trainers at Rate of Force are university educated and focused their studies & training on professional fitness training - to the benefit of Rate of Force and their training and sports conditioning members.
RATE OF FORCE - STRENGTH TRAINING AND SPORTS DEVELOPMENT
Like us on Facebook!
https://www.facebook.com/Rate-Of-Force-Strength-Conditioning-160528524011001/