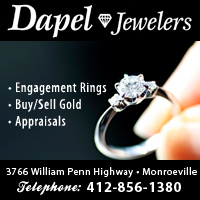 Dapel Jewelers is located at 3766 William Penn Highway Monroeville PA, 15146. Our jewelry store featuring fine jewelry has been serving the greater Pittsburgh area for 3 generations with a loyal following of tens of thousands. Many of Dapel's customers themselves are children and grandchildren of customers who originally purchased their engagement rings and wedding rings, and so the tradition simply continues with their families. Why not, excellent service and value, from certified diamonds to custom made rings, from diamond bracelets & necklaces to diamond earrings. Chose your fine jewelery in gold or platinum! Dapel Jewelers has all your jewelry needs covered. At Dapel Jewelers, we also buy fine swiss watches such as Patek Philippe and more!
"Confidential purchasing for all Estate Jewelry, from Vintage Cartier, Van Cleef and Tiffany to vintage pearl jewelry. Very attractive immediate offers available!"
Need an appraisal for insurance, or would you like a no charge consultation and offer for your gold, silver or diamonds? Dapel Jewelers will even appraise your gold coins and silver coins. We will provide you with a confidential appraisal quote and you can take your time to compare or chose to sell on the spot, as your comfort and peace of mind are of utmost importance to us!
So whether you require an expert repair on a heirloom piece, a magnificent diamond for an engagement or anniversary, discover what generations of Western Pennsylvanians already know, visit us at Dapel Jewelers! Serving all of Pennsylvania, including Monroeville, Murrysville, Delmont, Export, Harrison City, Trafford, Level Green, Plum Boro, North Huntingdon, Irwin, Greensburg, Oakmont, Verona, Penn Hills, Pittsburgh and surrounding areas!