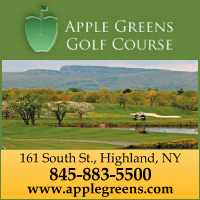 Apple Greens Golf Course located at 161 South St., in Highland, NY is a 27 hole championship golf course nestled in the heart of the Hudson Valley in Upstate New York in between New Paltz and the Town of Lloyd. Whether you live in the area or are just visiting this historic region, a round of golf at Apple Greens should be high on your list. Apple Greens is available for tournaments & charitable events.
Comfortably situated in the Town of Lloyd, Apple Greens Golf Course also provides golfers with awe-inspiring views of the Catskill and Shawangunk Mountain Regions year-round.
Apple Greens Golf Course is a family owned and operated golf facility that has been serving golfers of all ages and experience levels since With its manicured bluegrass fairways, bentgrass greens, and 4 tee areas to choose from, the course is challenging yet fun to play, and forces golfers to utilize every club in their bag.
Apple Greens Golf Course provides golfers with 27 holes of classic impeccable golf play throughout spring, summer, and fall. A driving range equipped with over 20 hitting stations permits athletes of all stages and levels of their golf game to practice all season long.
Family owned and operated by David and Judi Roehrs and the Roehrs Family, Apple Greens Golf Course is an establishment founded upon hard-work, a love of farming, and an appreciation for the challenges and rewards the game of golf provides us with everyday.
More importantly, the Roehrs family and entire Apple Greens Golf Course Staff, are eager to show you just how special their golf course and golf experience is!
The course at Apple Greens also has 2 putting greens available for those who find themselves needing discipline with their short game. To learn more about our rates, please contact the Apple Greens Pro Shop at 845 883 5500.
Also located on the golf course is The Restaurant at Apple Greens. The eatery offers classic American cuisine, specializing in smokehouse barbeque. The Restaurant is equipped with a full bar and offers one of the best outdoor eating experiences found in the Hudson Valley.
As you sit and enjoy your meal you can watch golfers tee-off on hole #10, our signature hole. With the Shawangunk Mountains and the Mohonk Lookout Tower in the distance, it is an easy place to relax and enjoy your day.
Apple Greens Golf Course in New Paltz also offers the perfect quality golf landscape for all your tournament and golf outing needs.The course hosts events anywhere from 50-200 people of all experience levels.
Apple Greens annually hosts tournaments for the Kingston Hospital Foundation, Marist Red Foxes, New Paltz College Athletics, Boys and Girls Section 9 Qualifiers, and Boys Mid-Hudson Athletic Finals, as well as women's and men's invitationals and an annual club championship tournament. In the summer of 2011, Apple Greens proudly hosted the 28th Annual Mid-Amateur Mid-Hudson Valley Qualifiers.
Like us on Facebook!