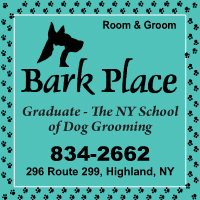 Bark Place located at 296 Route 299 in Highland, NY features dog & cat boarding, dog grooming, pet and cat grooming and professional dog grooming services; with, flea baths, nail clipping, ear cleaning and local custom pet grooming and pet boarding services to their loyal pet customers in Highland, New Paltz, Gardiner, Plattekill, Rosendale, Town of Esopus, Marlboro, Milton and the surrounding local area.
For over 15 years Diana Koller owner/operator of Bark Place located in Highland, NY has been recognized as the best dog, cat and pet groomer in Highland, New Paltz, Gardiner, Plattekill, Rosendale, Tillson, Rifton, Milton, Marlboro, Ardonia, Clintondale, West Park, Ulster Park, Esopus and surrounding local Ulster County, NY communities.
Pets and families throughout Ulster County trust Bark Place as their family pet grooming center, and trust Diana and her knowledgeable staff for all of their dog and cat pet grooming needs.
At Bark Place pet grooming, they treat your pets as if they were our own - with their state-of-the-art clean and spacious dog kennels, and their clean and comfortable cat condos especially designed for your kittty's needs.
The pet grooming facility at Bark Place pampers your pet(s) like royalty, and they feature a variety of shampoos and conditioners from medicated to luxury spa pet packages. Doesn't your pet deserve the best!?
Bark Place Pet Groomers feature only the finest quality pet soaps, shampooing and conditioning products containing premium botanicals, and all of our pet products have been tried and tested by them to insure quality control and reliability.
Visiting the Hudson Valley area for the weekend? Call for special weekend reservations at Bark Place for your pet!
Bark Place Room & Groom features state of the art accommodations for your dog and/or cat with elevated lamb skinned padded beds, and special activities and quality attention, so you can relax and enjoy you're time away from your pets. Please visit our convenient
Bark Place pet grooming and boarding location in between New Paltz, NY and Highland, NY on route 299 - just 2 miles east of the NY State Thruway, our facility is soooo comfortable - you might end up staying with your pets! (Beer & Wine NOT Included!)
Like us on Facebook!
https://www.facebook.com/BarkPlaceofUlster/
INTRODUCING: APTITUDE K9 Behavior & Training for Dogs.
Sarah Koller graduate of SUNY Cobleskills Canine Program with a BT in Animal Science specializing in canine behavior & training. From basic obedience to behavior modification, Sarah will patiently and gently work with your dog - breaking bad habits & behavior, to bring out the best in your dog or dogs.
Sarah is an associate member of the North American Police Working Dog Association.
Aptitude K9 Offers the Following Dog Training Services:
Basic Obedience
Advanced Obedience
Tracking
Behavior Modification
Behavior & Socializing with Other Dogs
Experienced with Working & Sport Dogs
Affiliated with the Albany Sheriffs Dept. K9 Unit
Contact: Sarah Koller - 845 750 2729 or kollers060@gmail.com
Like us on Facebook!
https://www.facebook.com/Aptitude-K9-Behavior-Training-387697855074726/