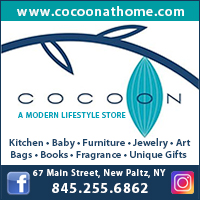 Cocoon is a gift shop located at 67 Main Street in New Paltz, NY featuring a little bit of everything for your home, and that unique gift for any event or occasion. Whether its kitchen accessories, baby clothes and gifts, jewelry, art, furniture, books, bags & scarves, fragrances, signs or any number of other unique gifts - it's all here at Cocoon. You could literally spend hours browsing in this store!
There are gift shops and there are gift shops - and then there's Cocoon! If your looking to show up with the coolest, most unique gift, then Cocoon gift store and boutique in New Paltz is your "go to" number one choice. This place has lots of a little bit of everything.
How do they get so much cool stuff in one store?!
Located in the heart of the New Paltz shopping district on Main Street in New Paltz, Cocoon is a family owned and operated gift shop, serving the New Paltz community for many, many years. If you want to shop where the locals shop, then this is your place!
No matter the event or occasion, at Cocoon you will find that unique gift sure to bring a smile to all. Home decor, kitchen items & accessories, wine & cook books, baby gifts & clothing, hats & scarves, the coolest jewelry, gag gifts and games, sign art, art, seasonal gifts - and that doesn't even begin to scratch the surface!
Stop in today, but give yourself time - because at Cocoon there's lots of a little bit of everything!
CURATED - MODERN - INDEPENDENT - LOCAL - HANDMADE - UNIQUE
Like us on Facebook!
https://www.facebook.com/cocoonathome/
Check us out on Instagram!