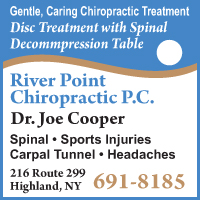 Dr. Joe Cooper of River Point Chiropractic in Highland NY is a chiropractor serving his patients in the New Paltz & Highland, NY area, and provides gentle pain relief to chronic back pain, sports injury's headaches and other back related pain issues. Dr. Cooper has been providing effective back pain relief to his patients for over 20 years with gentle & precise back spinal adjustments and spinal therapy.
BY APPOINTMENT ONLY DURING THE COVID 19 PANDEMIC. CALL OR TEXT DR. COOPER AT: 914 204 0694. THANK YOU AND BE SAFE!
Joe Cooper at River Point Chiropractic located at 216 Route 299 in Highland, NY has been providing gentle pain relief to chronic back pain sufferers for over 20 years.
If you are tired of pain management issues related to back pain, and are seeking a new and more modern approach with a board certified chiropractic physician who is professionally qualified to treat your pain related condition - call us today.
River Point Chiropractic is conveniently located on Route 299 in between Highland and New Paltz, and has a long-standing professional reputation for providing gentle and caring chiropractic methods of treatment with great success. STOP! You don't have to live in constant pain!
More importantly, Dr. Joe Cooper will analyze your chronic pain issues, and typically after a few visits will have you feeling comfortable and pain free - most pain discomfort that is back related can be treated efficiently and effectively after a few sessions.
At River Point Chiropractic, Dr. Joe Cooper in Highland, NY also provides pain relief from headaches to sports related injuries, and will consult with you personally regarding all of your health questions, and personal health related issues.
CHIROPRACTOR IN NEW PALTZ AND HIGHLAND - CHIROPRACTIC CARE AND BACK PAIN RELIEF IN THE NEW PALTZ, NY & HIGHLAND, NY AREA - GENTLE CHIROPRACTIC TREATMENT - HEADACHE RELIEF THERAPY