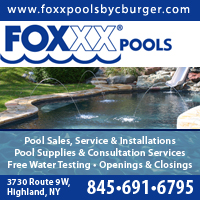 Foxx Pools By Charles Burger located at 3730 Route 9W (0.9 miles south of MHBridge on right) in Highland, NY is a swimming pool sales, service & pool Installation business, and swimming pool retail store serving the needs of their pool & spa customers in Highland, New Paltz, Gardiner, Marlborough, Stone Ridge, High Falls, Wallkill, Rifton, Tillson, Rosendale and surrounding Hudson Valley, NY communities.
Foxx Pools By Charles Burger provides general pool maintenance, pool openings, pool closings and complete pool liner replacement services in Ulster, Orange & Dutchess Counties.
At Foxx Pools By Charles Burger their goal and number one priority is clear: to create a backyard entertainment center for their customers with the highest quality product, labor, and service - and to create an outdoor room where families can join for fun, entertainment, exercise or just pleasurable viewing.
Foxx Pools By Charles Burger in Highland is owned by Charles Burger, who has been installing pools in the Hudson Valley since 1971. As a 43 year veteran of the pool industry, you will acknowledge and appreciate the expertise required to complete your backyard dream - be it new construction, or renovation of existing pool.
More importantly, the approach taken at Foxx Pools By Charles Burger involves a degree of conservatism in approaching new trends, a mastery of understanding local landscapes, and an in depth knowledge only found from years of hands on experience.
Please consider Foxx Pools By Charles Burger in Highland, NY for all of your swimming pool maintenace needs, repairs, installations, renovations and supplies.
Pool Openings & Closings: Prepping a pool for the swimming season or closing it down for the winter can be a lot of work, at Foxx Pools they offer complete packages at competitive pricing.

All required chemicals, cover cleaning, standard filtration, plumbing, automatic sanitizer, and heater services are included in our opening & closing costs!
Call, or stop in today and visit our swimming pool retail store, featuring all of your pool chemicals, supplies, parts and swimming pool fun items.
FOXX POOLS BY CHARLES BURGER IN HIGHLAND - POOL SALES, SERVICE & SUPPLIES
Like us on Facebook!
https://www.facebook.com/FOXX-Pools-by-Charles-Burger-162054713925/