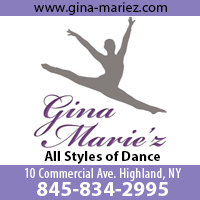 Gina Marie'z Academy of Performing Arts, LLC located at 10 Commercial Avenue in Highland, NY provides dance lessons, dance instruction, dance classes and dance performing arts and dance fitness classes to her students in Highland - Town of Lloyd, Marlboro, Milton, Plattekill, Clintondale, Ardonia, Ulster Park, West Park, Esopus and the local surrounding Highland, NY area.
************************************************************** Please visit Gina Marie'z new state of the art and modern 6000 square foot dance studio at 10 Commercial Avenue in Highland! This beautiful new dance studio is absolutely incredible!
***************************************************************
Owner and Studio Dance Director, Gina Marie Zambito, has studied all disciplines of dance and tumbling since the age of four, and proudly shares her knowledge and passion of dance to her students in the Hudson Valley.
At Gina Marie'z Academy of Performing Arts their priority is to enhance knowledge, improve professional practice and increase support for high quality, comprehensive physical education and dance. In addition to this, they believe that creating a vision of purpose is critical to defining and building a strong & efficient dance and arts organization.
Gina Marie'z Academy of Performing Arts presently features two studios and offers all levels and genres of dance, tumbling, and fitness instruction.
The primary goal and mission at Gina Marie'z Dance Studio in Highland, NY is to provide high quality and sustainable programs that contribute to the development and healthy lives of all our students through the Art of Dance.
More importantly, Gina continues to give back to the community that has supported her and watched her grow for the past 25 years - her Dance Company Members perform at local events and fundraisers for most local charitable causes.
At Gina Marie'z Dance Studio all ages are welcome in our studio. Call them today to find the class that is right for your special dancer!
Gina Marie'z Academy of Performing Arts, LLC is Proud Members Of:
NDA – National Dance Association
APHERD – Association of Physical Education, Recreation and Dance
Southern Ulster Chamber of Commerce
Regional Dutchess County Chamber of Commerce
National Association for Professional Women
Certified Zumba Instructors
GINA MARIE'Z DANCE STUDIO - ANYONE... ANYWHERE... ANY AGE... CAN DANCE!
Like us on facebook!
Check Us on Instagram!
facebook Link for Little Miss Spa
Dedicated to teaching dance to everyone!
Gina Marie'z Academy of Performing Arts, LLC provides a fun and dedicated location for dance classes of all types. The benefits of dance are not just learning the steps - other rewards include making friends, gaining self-confidence, and living healthier. Call Today!