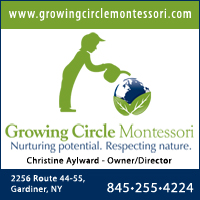 Growing Circle Montessori School located at 2256 Route 44-55 in Gardiner, NY is a private school based on the Montessori method of education for families in the local Gardiner, New Paltz, Wallkill, Town of Shawangunk, and surrounding Ulster County, NY area. Growing Circle Montessori is guided by Maria Montessori's philosophy that all children are unique, curious and born with a strong desire to learn.
Growing Circle Montessori in Gardiner, NY is a private Montessori Preschool dedicated to providing a quality, child-centered learning environment - here each child has the opportunity to develop his/her social, emotional, cognitive, and academic potential, in an atmosphere of respect that balances freedom and boundaries.
At Growing Circle Montessori School their dedicated and experienced teachers guide children toward independence, a love for learning, respect for self, others, and the environment.
Growing Circle Montessori endeavors to instill values children will need to meet life fully, with confidence, and a desire to contribute to the world. More importantly, they believe in a collaborative partnership with parents, to continue their nurturing and goals, and to build on the strengths they have fostered in their child.
At Growing Circle Montessori, their Montessori classroom features a beautifully prepared, enriched environment, with child-sized furnishings and materials within reach of even the smallest student.
The mixed age of students necessitates a broad range of activities, and allows each child the opportunity to find work suitable for his or her stage of development. A child is allowed to develop and explore at his/her own pace and as far as their interest and ability will take them.
The students at Growing Circle Montessori School in Gardiner receive individual attention on a one-to-one basis and also benefit from group interactions in which they can build confidence in a larger social environment - and their experienced teachers provide the instruction and motivation for students to perform at their peak.
GROWING CIRCLE MONTESSORI SCHOOL IN GARDINER, NY FEATURING MONTESSORI BASED EDUCATION & LEARNING TECHNIQUES FOR FAMILIES IN GARDINER, NEW PALTZ, WALLKILL AND THE LOCAL AREA