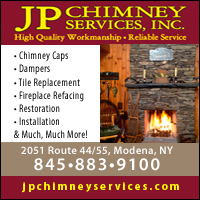 JP Chimney Services, Inc. located at 2051 Route 44/55 in Modena, NY provides chimney, fireplace and woodstove cleaning services - along with chimney & woodstove repairs and installations, and chimney restoration services to their customers in Gardiner, New Paltz, Highland, Marlboro, Plattekill, Wallkill, Newburgh and surrounding Hudson Valley communities.
JP Chimney Services has been cleaning and repairing chimneys, fireplaces and woodstoves for over 25 years, and is a certified chimney sweep and member of the National Chimney Sweep Guild.
JP Chimney Services has learned from experience that striving to do what's best for you, as a customer, is worth far more than trying to sell you something that you don't want or need, or doing shoddy work that maybe nobody will ever notice - which is why JP Chimney Services in Modena is the preferred chimney sweep in Gardiner and the surrounding area.
Chimney and house fires can result from poor wood burning habits, over-sized or outdated stoves or flues, and from people who install stoves and do chimney service work themselves without the proper information or tools.
Thats why at JP Chimney Services, they offer a wide variety of quality services and products that are sure to suit all your chimney and fireplace safety needs. More importantly, with their products, services, and over 22 years in the business, JP Chimney Services is a name that you can rely on and trust.
Also, you are in good and reliable hands when it comes to JP Chimney Services, because their company has general liability and worker's compensation insurance.
So, when it is time to clean your fireplace, wood-burning stoves and chimneys, give JP Chimney Services in Modena a call. They can also help repair your chimney or stove; refinish it, or completely restore it, and are passionate about providing you with high quality workmanship, clean and orderly service and attention to detail when it comes to your chimney, fireplace, or wood-burning stove.
Call JP Chimney Services, Inc. today for a free estimate on all their products and services!