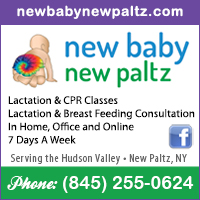 New Baby New Paltz located in New Paltz, NY specializes in lactation classes, local lactation consultation services, maternity clothing & bra fitting, newborn baby carrying classes, baby gift registry services and mother & baby social groups to their expecting families in the Hudson Valley area.
New Baby New Paltz features lactation classes and lactation consultation services to their expecting customers in New Paltz, Rosendale, Tillson, Rifton, Stone Ridge, High Falls, Saugerties, Kingston, Woodstock, Rhinebeck, Poughkeepsie, Middletown, Newburgh and surrounding Hudson Valley, NY communities.
For breastfeeding help, please call Donna at: 845 750 4402
Lacation Consultation Link:
https://newbabynewpaltz.com/products/lactation-consultation-follow-up
Established in 2010 by Donna Bruschi, New Baby New Paltz features fun and informative lactation & baby educational classes & support groups for Moms and expecting new families - and they support and encourage each other through friendship, education & community awareness.
More importantly, New Paltz, New Baby New Paltz is a friendly business where you can change a diaper, take a nursing break, meet a friend and enjoy a cup of tea - or even find a shoulder to cry on. They understand!
When you shop at New Baby New Paltz online store, you can feel comfortable in knowing that all of their products have been Mom and Dad tested - mostly by their own customers!
Also, they stock family friendly, earth friendly, useful and affordable products; so stop in and experience their genuine love, expertise, and no pressure service. New Baby New Paltz - a place to meet other moms and babies!
DAYS AND TIMES TO REMEMBER - PLAY GROUPS AND CLASSES FOR ALL!
​New Mothers Social Circle - 0 to 8 Months
Beginning Breastfeeding for Pregnant Parents
Beginning Breastfeeding for the First Month
Express Yourself - Exclusive Pumping & Return to Work
3, 6, 12 Month Breastfeeding Support Programs
Birth & Baby Preparation Classes
Hudson Valley Due Date Club
Check us out on Instagram: