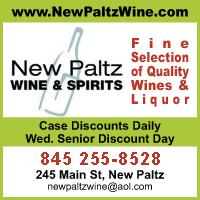 New Paltz Wine & Spirits located at 245 Main Street in New Paltz, NY is a wine & liquor store in New Paltz that proudly features a wide variety of quality wines and spirits, and the best wine & liquor prices in New Paltz. New Paltz Wine & Spirits has weekly wine tastings and carries featured wines from all regions and countries - with the best wine selection and prices in New Paltz.
At New Paltz Wine & Spirits, their friendly and knowledgeable staff is always available to assist you, and answer any of your wine and spirit questions - and they offer case discounts for wine every day, and always feature a quality wine or liquor discount special.
Looking for the best selection and prices? New Paltz Wine & Spirits has the the best prices and wine & liquor selection in New Paltz, so there's no reason to shop around!
New Paltz Wine & Spirits proudly offers their customers wines from all regions and countries, as well as unique wines & spirits for those special occasions and holidays.
A passion for wine drives the heart of the store, which boasts the largest selection of local, domestic, and imported wines in the New Paltz, Gardiner, Highland, Modena and surrounding area.
The spirits selection reflects the diverse tastes of the community which focuses on both local artisanal spirits and all the most popular brand names.
Stop in today and visit their friendly and well stocked store - parking is always easy and convenient, and they will always help their customers to their car with heavy or bulky purchases.
Join us on Fridays from 4-7pm for wine & spirits tastings. Visit our Facebook page for the up to date tasting schedule.
Like us on Facebook! https://www.facebook.com/newpaltzwine/