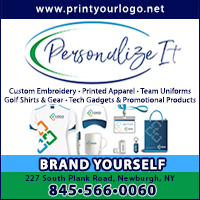 Personalize It located at 227 S. Plank Road, Route 52 in Newburgh, NY is a custom embroidery and printed apparel business that specializes in corporate branding & promotional products, local custom embroidery services, silk screened T-shirts, custom embroidered hats, shirts and jackets for sports & business apparel to their customers in Dutchess County and the local Orange County, NY area.
SPIRITWEAR & SCHOOL APPAREL
PERSONALIZE IT IS NOW FEATURING CUSTOM PERSONALIZED HOLIDAY GIFTS!
CHRISTMAS ORNAMENTS
KEY CHAINS
DRINK COASTERS
GLASSES, MUGS & THERMOS'
BOTTLE OPENERS
BABY BIBS
STOCKINGS
PHONE CASES
HOLIDAY RELATED COVID MASKS
PROMOTIONAL PRODUCTS FOR HOLIDAY GIFTS
AND SO MUCH MORE! CALL TODAY FOR DETAILS!
PERSONALIZE IT IS NOW AN AUTHORIZED DECORATOR FOR THE NORTH FACE® APPARELL
Newburgh Strong Link - Support Your Specific Community:
https://apparel.printyourlogo.net/page/support-local-business
Personalize It in Newburgh, NY is your one-stop source for custom embroidery, silk screened and printed T shirts, promotional products and promoting your local business, school, event or function in the Newburgh, Poughkeepsie, Wappingers Falls, Fishkill, Beacon, Pine Bush, Village of Wallkill, Gardiner, New Paltz, Middletown, New Windsor, Town of Shawangunk and the surrounding local Orange County, NY and Dutchess County, NY area.
Promotional Products & Corporate Apparel - Looking for a specific item or just browsing for ideas? Personalize It is your one-stop shop for promotional products and business gifts.Their extensive range of promo products will ensure you find something to suit all your marketing and branding requirements.
With 1,000's of selections, we offer branded merchandise to fulfill all of your needs.
Put our knowledge about promotional products to work for you. With high quality promotional products, fast delivery times, and prices to fit all budgets, we will provide customized, relevant recommendations for you. Simply take a look around or contact us now and we'll do the shopping for you!
FUND RAISING OPPORTUNITIES FOR YOUR SCHOOL OR CHARITY! Call Mark at Personalizes it today for your next school or charity fundraising event - they have a unique and easay program that is sure to work for you!
Promotional products are an excellent Top Of The Mind Awareness (TOMA) tool for brand and logo recognition, and often serve as the foundation for self promotion within a business.
At Personalize It in Newburgh, NY they specialize exclusively in the best embroidered and silk-screened apparel, with a complete line of promotional products and promotional gifts for your business, school or function.
Promotional products also serve as an excellent tool for maintaining customer awareness for your business; a constant reminder - if you have a logo, thay have the promotional products to promote that logo!
More importantly, at Personalize it in Newburgh you can place your order with the upmost confidence knowing that it will be completed on time, and you will appreciate the high standards of custom quality workmanship and personalized customer service - with a large selection of quality products, competitive pricing and dedicated customer service.
Why go anywhere else!?
Please visit the Personalize It web site at www.printyourlogo.net, where they feature an extensive detailed description with colored photos of all of their promotional products and services. Personalize It looks forward to promoting YOU soon!
IMPRINTED APPAREL - CUSTOM EMBROIDERY - SILK SCREENED T-SHIRTS PROMOTIONAL PRODUCTS - ADVERTISING SPECIALTIES - BRANDING
Like us on Facebook!
https://www.facebook.com/pages/Personalize-It/100989583328814
PERSONALIZE IT - BRAND YOURSELF!