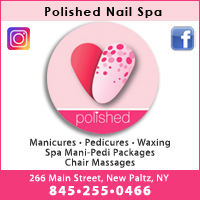 Polished Nail Spa located at 266 Main Street - Shoprite Plaza in New Paltz, NY is a full service nail salon that features manicures, pedicures, waxing, manicure & pedicure spa packages and bridal & wedding nail packages to their local nail care customers in New Paltz, Highland, Gardiner and the surrounding local area. Polished Nail Spa also offers custom spa & nail packages to their customers, and is open 7 days.
Polished Nail Spa in New Paltz is a full service nail salon and spa that features exceptional nail and spa services to their customers in a clean, comfortable and friendly atmosphere with professionally trained nail technicians. Come in and relax as their nail & spa experts pamper you to the ultimate spa experience - with stress relieving chair massages, body waxing and quality nail care services.
Please consider Polished Nail Spa for all your bridal & wedding nail care services - the owners and technicians at Polished Nail Spa will personally meet with you to design a custom nail & spa package just for you and your bridal party - and one that works within your budget!
Call today for details, and to schedule an appointment.
MANICURES - PEDICURES - PROFESSIONAL NAIL TECHNICIANS
Like Us on facebook!
https://www.facebook.com/Polished-Nail-Spa-1126583000692301/
Check us out on Instagram!