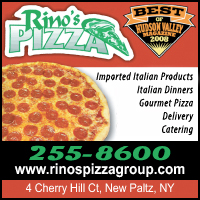 Rino's Pizza located at 246 Main Street at the Cherry Hill Plaza in New Paltz, NY proudly features the best pizza in New Paltz, and the best Italian dinners in New Paltz - with the fastest pizza delivery in New Paltz. Rino's has it all, pasta dinners, stromboli's, calzones, hot & cold subs, wings & wraps, it's all here - and its all prepared fresh to order. Call Rino's Pizza today for all your first and last minute pizza cravings!
It's no secret, the best pizza in New Paltz is at Rino's Pizza. At Rino's Pizza you are treated like family because they are family owned and operated, with 2 generations of family restaurant experience and hospitality.
Rino's Pizzeria in New Paltz uses only the freshest high quality ingredients, and our chefs & pizza makers take pride in serving(and delivering) to you the best pizza and Italian dinners in the New Paltz area. Rino's Pizza offers a diverse menu to entice both children and adults, and we work hard to please all of our customers with high quality food in a casual family dining setting - all at great family friendly prices!
Rino's Pizza in New Paltz proudly serves delicious thin crust NY style pizza, and our innovative pizza artists create different pies daily to keep your taste buds happy and surprised - at Rino's Pizza, we work hard to keep you coming back for more!
Delivery Service - Rino's Pizza features the fastest and most reliable pizza delivery service in New Paltz. Your order will arrive fast, hot and fresh! For large or special orders please call ahead in advance. Please consider Rino's Pizza for your next private party, sports, family or catering event!
RINO'S PIZZA - CLASSIC STYLE & GOURMET PIZZA - SPECIALTY PIZZA'S ITALIAN DINNERS - GLUTEN FREE MENU ITEMS - FAST & RELIABLE PIZZA DELIVERY - CATERING FOR ALL OCCASIONS - HOT AND COLD SUBS STROMBOLI'S & CALZONES - WRAPS & WINGS - FRESH, CRISP SALADS IMPORTED ITALIAN PRODUCTS, PASTAS, SAUCES AND OLIVE OIL
Like us on Facebook!
https://www.facebook.com/pages/rinos-pizza/273294532687583
Please check out Rino's new expanded dinning room and quality imported Italian products section! From imported Italian pastas & Italian olive oils, to other classic Italian imports - these original imported Italian products make a great addition to any any kitchen. Holiday gift baskets now available!