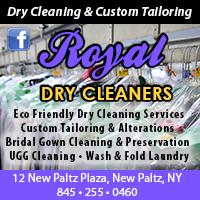 Royal Dry Cleaners located in the New Paltz Plaza on Route 299 in New Paltz, NY features on site eco-friendly dry cleaning, on site tailoring & alteration services, leather cleaning, rug cleaning, Uggs cleaning & restoration, garment preservation and prompt, local professional dry cleaning delivery service provided by the Carry Out Kings (845 256 6542) to their customers in the New Paltz area.
At Royal Dry ​Cleaners in New Paltz, NY they pride themselves in providing the best dry cleaning and quality fabric care services in Ulster County. Royal Dry Cleaners are your complete fabric care cleaning specialists!
Their knowledgeable and attentive staff have been professionally trained at the National Cleaners Association in NYC, and will personally consult with you regarding all of your fabric and garment care questions and concerns.
Royal Dry Cleaners is located in the New Paltz Plaza, and all of their eco-friendly dry cleaning services and tailoring are done on site to insure the best quality control - because they do these services themselves, they do them the best!
More importantly, Royal Dry Cleaners is family owned and operated, and has been a strong and supportive business in the New Paltz community for many years.
Do you have a tough stain or fabric problem? Maybe an interesting tailoring or alteration question concerning pants, jackets or draperies - at Royal Dry Cleaners and Tailoring in New Paltz they do it all!
Stop in today and join our Royal Discount Club, where you can receive a 20% discount on all of your dry cleaning.
ROYAL DRY CLEANERS & TAILORING - WE TREAT YOUR CLOTHES LIKE ROYALTY!
Like us on Facebook!
https://www.facebook.com/pages/Royal-King-Dry-Cleaners/143469512366681