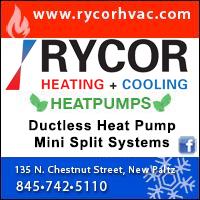 Rycor Heating & Cooling located at 135 N. Chestnut Street in New Paltz, NY specializes in ductless mini split heating & cooling heat pumps systems. Ductless mini split systems are absolutely silent, and provide cost efficient total comfort; typically cutting 50% off of your heating and cooling bills. Rycor is family owned & operated, and handles all phases of sales, service & installation of their ductless mini split systems.
Rycor Heating & Cooling installs and services ductless mini split heat pump systems to their customers in New Paltz, Gardiner, Stone Ridge, High Falls, Rosendale, Kingston, Wallkill, Pine Bush and surrounding Ulster County, NY communities in the beautiful Hudson Valley, NY area.
Advantages of of the Mitsubishi Ductless Mini Split Sytem Link:
https://www.rycorhvac.com/mitsubishi-ductless-mini-split.php
Advantages of the Mitsubishi Ductless Mini Split
Advantages of mini-splits are their size and flexibility for zoning or heating and individually cooling rooms. With every zone having a thermostat, you only need to condition the space occupied, saving energy and money.
Since mini-splits have no ducts, they avoid the energy losses associated with ductwork. Duct losses account for more than 30% of energy consumption for space conditioning, especially when the ducts are in the attic, where temperatures and conditions drastically change. Another benefit to the ductless mini-split system is safety. A small hole in the wall makes it an impossible entry point for an intruder, unlike through-the-wall and window-mounted room air-conditioners.
At Rycor HVAC Heating & Cooling, their heating and cooling systems feature advanced technologies that allow you to enjoy more precise comfort and healthier air in one room or your whole home - while saving on your energy bills and contributing to a greener planet.
Why pay to cool and heat your home all year long when you only live in a few rooms at a time?! With ducted forced air systems, this is a common problem.
You can count on Rycor in New Paltz to provide the perfect solution to your heating and cooling problems with their custom ductless mini split systems. Here's how they do it...
No new ductwork is required, so installation is quick and easy, and doesn't require messy and often complicated renovations.
There are options for single rooms, multiple rooms or your entire home.
Indoor units can be installed anywhere in the room - on the ceiling, wall or floor.
Outdoor units come in a wide variety of capacities and are compact, easy to install and blend in easily & unobtrusively around your home.
Wireless control units sense the temperature throughout the room and make the necessary automatic adjustments.
Filter Maintenance & Cleaning can be done in a matter of minutes and with regular cleaning, filters can last up to 10 years.
Rycor Heating & Cooling in New Paltz - Call the ductless mini split heat pump system experts in Ulster County, NY today for a free estimate. Special rebates are currently available!
RYCOR HVAC HEAT PUMP SPECIALISTS SERVING THE HUDSON VALLEY
At Rycor Heating & Cooling, their "number one first priority" is to develop long & lasting relationships with their customers built on integrity, trust, and quality craftsmanship, and Rycor always strives to create cost-effective comfort solutions - that benefit both our clients and our environment!