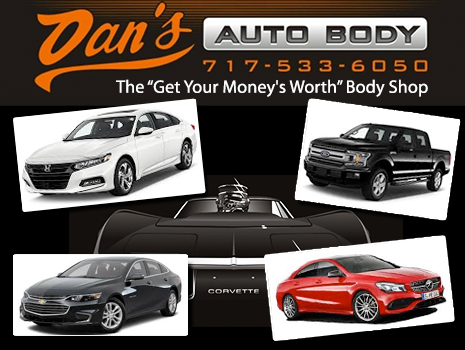 For the best auto body shop that offers collision repairs and auto & truck painting in Elizabethown, Hershey, Hummelstown, Middletown and Palmyra visit or call Dan's Auto Body Inc.
Dan's Auto Body is your local auto body collision & repair shop located at 359 Gates Road in Hershey, PA. Dan's Auto Body is a full service auto body shop offering towing, body work, collision repairs, auto painting paintless dent removal, aluminum truck bed repairs and headlamp reconditioning.
The Get Your Money's Worth Body Shop!
If you're looking for an Auto Body Repair Shop that does quality auto body repairs and auto painting in Hershey only minutes from Elizabethtown, Hummelstown, Middletown, Palmyra or Harrisburg PA call Dan's Auto Body.
Dan's Auto Body has been in business since January 1991 and has been so successful throughout the years because of the attention to every detail whether the job is big or small. Customers will tell you Dan's Auto Body is the only place to go if you want it done right.
Estimates are always free at Dan's Auto Body shop and don't need to be set-up by appointment but we also will work off of any insurance companies estimate. Dan's Auto Body is not a direct repair facility for any insurance company because they work for the customer not the insurance company.