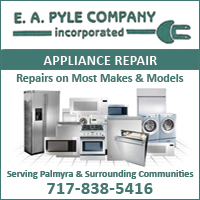 Need appliance repairs in Palmyra, Campbelltown, Annville, Hershey & Hummelstown, PA? The E. A. PYLE Company is your local source for washer, dryer, refrigerator, dishwasher, stove, oven, microwave, freezer, garbage disposal and window air conditioner repairs and service in Lebanon County, Hershey and Hummelstown, PA.
The E. A. PYLE COMPANY has been repairing All Makes & Models of major appliances since 1977. They provide expert appliance repairs to homeowners, property maintenance companies, real estate companies and commercial property owners.
The E. A. PYLE COMPANY has made it easy to get your appliances working again. They are locally owned and operated- Insured and Licensed.