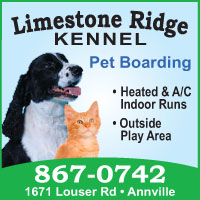 Limestone Ridge Kennel in Annville, PA is your pet's home away from home for dog & cat boarding; conveniently located off route 322 in South Annville, just minutes from Palmyra, Hershey and Lebanon.
Limestone Ridge Kennel is dedicated to providing your pet(s) with the most comfortable provisions available while you need to be away from them. Our facilities are located indoor in air-conditioned and heated comfort. We also provide an outside, supervised exercise area. We understand the need of creating a home-away-from home atmosphere, and assure you that we will treat your "best pal" as we would our own.
Vaccinations Requirements
In order to provide the safest environment possible for all animals are required by law to have on file current RABIES vaccination certificate from your veterinarian, and subsequent updates thereafter. Additional vaccines and updates required are:
DOGS- DHLP-P OR DHP-P and and K9 FLU (H3N8). The Canine Cough vaccine (Bordetella) is not required and is a decision between you and your veterinarian. Limestone Ridge is now requiring K9 Influenza (H3N8) which initially requires 2 doses spaced 2-4 weeks apart and annual boosters thereafter.
CATS- Panleukopenia (Distemper) (FPV) and Rabies
Parasite Treatment
During flea/tick/mosquito season, we STRONGLY suggest that you treat your pet prior to boarding with any of the veterinary recommended monthly treatments available.
Should animals enter the boarding facility with evidence of any of these parasites they will be treated with a topical application at the owner's expense.
Following all these procedures will assure that your pet and other dogs or cats will remain healthy during their stay.
Food and Feeding
The kennel provides a premium wholefood dry food for both adult cats and dogs. However, should you wish you may bring food from home if the animal does not tolerate a food change.
Additionally, should your pet be on a special or veterinarian-prescribed diet, we ask that you provide enough food for the duration of the stay. All food provided should be clearly marked with the pet's name along with the feeding instructions. Every effort will be made to follow the feeding instructions in a professional manner.
Medication
If your pet requires medication, please provide an ample supply for the duration of the stay. Include instructions with the name of medication(s) and dosage. In the case of diabetics syringes must also be provided. Should it be necessary to have a food and/or medicine prescription filled through your veterinarian an additional fee of $10.00 will be charged in addition to the cost of the supplies.
Other Components
You are encouraged to bring along a familiar toy or two; however, we do not accept responsibility should the object be lost or destroyed. You may also provide a familiar blanket or mat to be included with kennel provided mats. Beds and crates are also accepted within a reasonable size limitation.
Proof of PA Licensing

PA state law requires all dogs 3 months and older to be licensed annually if you do not have a Lifetime license. Dogs are not required to be licensed in order to be boarded. However, if on a day of random inspection by a PA Dog Warden I cannot provide proof of license, Limestone Ridge Kennel is NOT responsible for any citation and/or fine you may incur. Please provide either the tag, or a copy of the license.

Rates

Our rates are competitive with the surrounding market. A fee of 75% the normal boarding rate will be charged for less than 72 hrs. notice of cancellation. Once a reservation has begun you will be responsible for the full boarding charge despite early pick-up.
Boarding vs. Stay-At-Home
Pets remaining at home may escape and "try to find you";
Kennel operator, although not a veterinarian, is usually able to recognize signs of illness and distress and will seek veterinary care if necessary;
Pets in a kennel situation have other animals and people to keep them occupied;
Pets at home could become destructive if left alone for long periods of time;
Boarding as a Partnership
It is best to begin boarding as soon as the initial immunization program is complete. This allows the pet to become accustomed to the procedure. It also provides socialization by getting the animal used to new people and animals.
Owner should not display negative emotions when leaving the pet at a pet boarding facility. These emotions will transfer to the pet and could create a sense of anxiety.
Upon pick-up the pet will be happy to see you-some, on the other hand, will have enjoyed their stay so much they may very well want to remain for more fun- don't be offended.
Employment Opportunities
Part-time positions available.