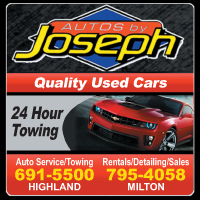 Autos By Joseph located at 354 Vineyard Avenue in Highland, NY has been faithfully providing quality used cars, pre-owned cars and trucks, and used cars with quick guaranteed credit approval to their customers in Highland, New Paltz, Gardiner, Milton, Marlboro, Esopus, Ardonia, Rosendale, Clintondale, Plattekill, Poughkeepsie, Wallkill and the surrounding local area.
For over 24 years, Autos By Joseph in Highland, NY has been selling the best quality pre-owned used cars and vehicles to his customers in the Highland, New Paltz, Town of Marlborough, Gardiner, Town of Plattekill, Wallkill & the Town of Shawangunk, Town of Esopus, Town of Rosendale, Rifton, Tillson, West Park, Poughkeepsie, Hyde Park and surrounding Town of Lloyd communities.
It's no secret... everybody goes to Autos by Joseph, whether it's a first time car buyer or a typical repeat satisfied customer - because Autos By Joseph is the home of the real guaranteed credit approval program.
Autos By Joseph features quality pre-owned vehicles starting at around $3000.00 dollars and up - all cars displayed and sold are always guaranteed and meticulously inspected by our mechanics to insure quality, and our reputation!
Autos By Joseph Auto Sales has two convenient locations to service their customers in the greater Hudson Valley area!
AUTOS BY JOSEPH - QUALITY USED CARS - GUARANTEED CREDIT APPROVAL - FULL SERVICE AUTO REPAIR - 24 HOUR TOWING SVC AUTO DETAILING SERVICES - FAST AND EASY IN HOUSE AUTO FINANCING
Like us on Facebook!
https://www.facebook.com/pages/Autos-BY-Joseph/137429923000007
Car Finder Link: https://www.autosbyjoseph.com/carfinder.aspx
In House Financing Link:
https://secure.carsforsale.com/finance.aspx?sid=17300&jesxel=358622&hla=0&bgcolor=%23ffffff&lid=-1&vid=-1