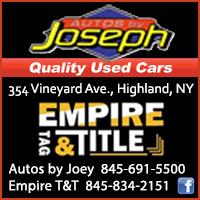 Autos By Joseph located at 354 Vineyard Avenue in Highland, NY has been faithfully providing quality used cars, pre-owned cars and trucks, and used cars with quick guaranteed credit approval to their customers in Highland, New Paltz, Gardiner, Milton, Marlboro, Esopus, Ardonia, Rosendale, Clintondale, Plattekill, Poughkeepsie, Wallkill and the surrounding local area.
For over 24 years, Autos By Joseph in Highland, NY has been selling the best quality pre-owned used cars and vehicles to his customers in the Highland, New Paltz, Town of Marlborough, Gardiner, Town of Plattekill, Wallkill & the Town of Shawangunk, Town of Esopus, Town of Rosendale, Rifton, Tillson, West Park, Poughkeepsie, Hyde Park and surrounding Town of Lloyd communities.
It's no secret... everybody goes to Autos by Joseph, whether it's a first time car buyer or a typical repeat satisfied customer - because Autos By Joseph is the home of the real guaranteed credit approval program.
Autos By Joseph features quality pre-owned vehicles starting at around $3000.00 dollars and up - all cars displayed and sold are always guaranteed and meticulously inspected by our mechanics to insure quality, and our reputation!
Autos By Joseph Auto Sales has two convenient locations to service their customers in the greater Hudson Valley area!
AUTOS BY JOSEPH - QUALITY USED CARS - GUARANTEED CREDIT APPROVAL - FULL SERVICE AUTO REPAIR - 24 HOUR TOWING SVC AUTO DETAILING SERVICES - FAST AND EASY IN HOUSE AUTO FINANCING
Like us on Facebook!
https://www.facebook.com/pages/Autos-BY-Joseph/137429923000007
Car Finder Link: https://www.autosbyjoseph.com/carfinder.aspx
In House Financing Link:
https://secure.carsforsale.com/finance.aspx?sid=17300&jesxel=358622&hla=0&bgcolor=%23ffffff&lid=-1&vid=-1
EMPIRE TITLE & TAG
Empire Title & Tag located at 354 Vineyard Avenue in Highland, NY is an officially licensed partner with the New York State Department of Motor Vehicles. Whether you're looking to register a new vehicle, transfer a title, or even write a police abstract, Empire Tag & Title offers a wide variety of services that make the process of dealing with the DMV easy and hassle-free!
Empire Title & Tag Web Site: https://empiretagandtitle.com/
With COVID and the ever changing legislation regarding motor vehicle regulations, we noticed an ever increasing wait-time in lines at the DMV. This inconvenience not only created an increase in frustration for dealers like us (Autos By Joseph), but our clients as well.
Which is why we were inspired to create Empire Tag & Title. Our decades of experience and knowledge of the car industry in all facets of the market has provided the experience and expertise required to serve our clients quickly and efficiently.
Whether you're simply looking to acquire a duplicate title for your vehicle or seeking services of a more complicated nature, Empire Tag & Title will consistently go above and beyond to give you (and your vehicle) the quality customer service you deserve.
Give us a call today or contact us for more information!
EMPIRE TITLE & TAG - ALL YOUR BASIC DMV NEEDS UNDER ONE ROOF!
Like us on Facebook!
https://www.facebook.com/pages/category/Automotive-Service/Empire-Tag-and-Title-Services-101594085002038/