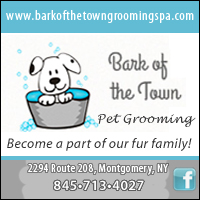 Bark of the Town Pet Grooming located at 2294 Route 208, suite 4 in Montgomery, NY is a dog grooming, pet and cat grooming business providing gentle & professional dog grooming, flea baths, nail clipping and custom pet grooming services to their customers in the Walden, Montgomery, Newburgh, Village of Wallkill, Rock Tavern, Campbell Hall, Town of Hamptonburgh and surrounding communities.
DOGGIE DAYCARE & BOARDING SERVICES NOW AVAILABLE AT BARK OF THE TOWN!
Large or small - Bark of the Town Pet Grooming in the greater local Montgomery, NY and Town of Newburgh, NY area can handle any size dog, and they specialize in gentle & compassionate grooming techniques sure to wag any tail!
Pets and families throughout Montgomery, Walden, Maybrook, Wallkill, the Town of Shawangunk, Rock Tavern, Campbell Hall, Hamptonburgh, the Town of Hamptonburgh, Newburgh, Balmville, Town of Newburgh and the central Orange County, NY area trust Bark of the Town Pet Grooming, and trust Lisa for all of their pet grooming needs because she treats your pet as if it were her own - with love!
Please consider Bark of the Town in Montgomery, NY for all of your dog, cat and pet grooming & boarding needs and services.
Like us on Facebook! https://www.facebook.com/Barkofthetown19
Check us out on Instagram:
https://www.pixgram.me/lisav323/media/732113351424893389_208630023