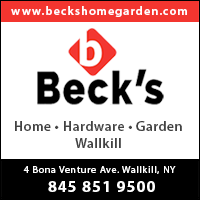 Beck's Hardware located at 2412 Route 52 in Pine Bush and Becks Home & Garden located at 105 Depot Street in Pine Bush, are your one stop hardware and home & garden shopping stores - featuring everything you need for your home improvement and lawn & garden projects in two fully stocked stores. From tools, paint supplies, plumbing & electric, to handy lawn & seasonal garden supplies and pet food.
Family owned and operated, Beck's Hardware, Home & Garden is a small town hardware store and garden center with big heart, and where customer service is their number one highest priority.
As soon as you walk in Beck's Hardware, Home & Garden, you will always find a friendly face who is more than willing to answer any of your questions - and will quickly direct you to any item that we have in stock. Whether you tackle projects weekly, monthly or yearly,
More importantly, Beck's Hardware, Home & Garden has everything you need for all your home improvement and outdoor lawn and garden projects, and their friendly and knowledgeable staff will gladly assist you in finding that certain whatcha-ma-call-it right down to the smallest nut, bolt and washer.
Beck's Hardware, Home & Garden in Pine Bush is your one stop destination for all your hardware and lawn & garden needs at two convenient locations in Pine Bush, NY.
Beck's Hardware, Home & Garden - your local, family owned & operated hardware store and nursery & garden center for all your indoor and outdoor projects in the Pine Bush, Bullville, Cragsmoor, Village of Wallkill, Town of Shawangunk, Walden, Montgomery and surrounding Town of Crawford, NY communities.