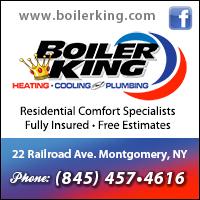 Boiler King located at 22 Railroad Ave. in Montgomery, NY is a full service plumbing, heating and air conditioning company servicing the Montgomery, Walden, Newburgh, Pine Bush, New Windsor, Monroe, Middletown, Ellenville, Cornwall, Campbell Hall, Wallkill, Chester, Washingtonville, Blooming Grove, Wurtsboro, Goshen and most Hudson Valley, NY communities.
Boiler King provides professional HVAC services to their local customers in Orange, Sullivan & Ulster County, NY.
Boiler King, Inc. is your premiere local plumbing, heating and cooling specialists in Orange, Ulster & Sullivan Counties.
Family owned and operated, Boiler King has over 46 years of combined technical experience as your full service residential heating and cooling comfort specialists - and specializes in servicing and installing most major brands.
Fully licensed & insured and with the most competitive rates in the Hudson Valley, Boiler King provides professional and reliable 24 hour emergency HVAC service - without creating an emergency in your wallet!
Boiler King, Inc. can service & install most heating & air conditioning systems, water heaters, and water treatment systems - for that sometimes stinky and "hard" Hudson Valley well water.
HVAC SERVICES: Have any HVAC issue handled right away with the 24/7 emergency services from Boiler King in Montgomery, NY.
Boiler King uses a variety of the top heating and cooling brands for your system, and they are fully insured and have a variety of financing options available. Making sure your home stays warm in the winter and cool during the summer is their first priority.
At Boiler King their customers appreciate the promptness and friendliness from their professional HVAC team. You can always trust their family-run business for competitive pricing and quality workmanship.
With more than 50 years of combined HVAC experience, you can count on Boiler King to make sure every detail gets attended to. Whether you need a new system repaired in the middle of the night or any time around your busy schedule, you can count on them to be there.
Call Boiler King in Montgomery today for a free estimate, financing is also available - reduce your cost of living while retaining your style of living!
Boiler King - providing professional full service HVAC services to their customers in Orange, Ulster and Sullivan counties.
BOILER KING - RESIDENTIAL & COMMERCIAL HVAC COMFORT SPECIALISTS - HEATING - COOLING - PLUMBING - FREE ESTIMATES SERVICING MOST MAJOR BRANDS - SALES & INSTALLATION
Like us on Facebook!