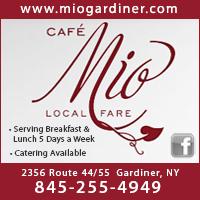 Cafe Mio located at 2356 Route 44/55 in Gardiner, NY is family friendly cafe serving breakfast & lunch five days a week, and proudly features the finest and freshest local fare that the Hudson Valley offers. Cafe Mio has great breakfast sandwiches, wraps and classic breakfast platters with all your favorite breakfast options, and daily lunch specials with all your favorite sandwiches, burgers, soups & sides.
Cafe Mio Serves breakfast and lunch 5 days a week to their customers in Gardiner, Wallkill, Modena, Ardonia, Plattekill, New Paltz and the surrounding local area.
Cafe Mio opened in Novenmber 2009 and is located inside Gardiner Gables of Gardiner, NY. Since it's inception, chef Michael Bernardo has been serving both quality interpretations of classic dishes and bold new ventures chalked in daily on the specials board.
Cafe Mio's interior reflects the unique taste of the surrounding area while also paying tribute to Gardiner's storied past. The warm and comforting backdrop, ornate with the work of local artists, blends into the heart of the bustling open-kitchen eatery.
Family owned & operated by culinary chef Mike Bernardo and his wife Amanda, Cafe Mio strives and succeeds in creating a unique and unforgettable dining experience - while treating every customer like a member of their family, because you are!
More importantly, the primary objective at Cafe Mio in Gardiner is to provide a dining experience that allows the culinary wealth of the Hudson valley to shine in every dish - and this is accomplished by chef Michael by incorporating the freshest local ingredients from local purveyors who share his same passion for great and simple food.
Cafe Mio is a local cafe & family restaurant in Gardiner, NY that serves breakfast and lunch 5 days a week, with daily specials for their customers in Gardiner, Modena, New Paltz, Plattekill, Wallkill and the Town of Shawangunk.
CAFE MIO - UNIQUE, SIMPLE DISHES MADE WITH LOVE!
FRESHEST LOCAL FARE OF THE HUDSON VALLEY!
Like us on Facebook!
https://www.facebook.com/pages/Cafe-Mio/162274608939
Cafe Mio Menu & Catering Contract Form Link: