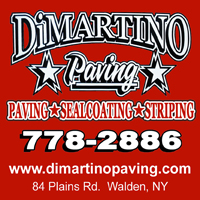 DiMartino Paving and Sealcoating located at 84 Plains Road in Walden, NY is a family owned and operated local asphalt paving and asphalt sealcoating business that provides quality driveway & parking lot paving and sealcoating services to their customers in the Newburgh, Montgomery, Walden, Maybrook, Wallkill and surrounding Orange & Ulster County, NY communities.
DiMartino Paving are pothole & asphalt repair and blacktop repair specialists serving Orange County, NY and Ulster County, NY. Call them today!
DiMartino Paving and Sealcoating provides the best asphalt paving and best sealcoating services in Orange County, NY. DiMartino Paving and Sealcoating services the Newburgh, Montgomery, Maybrook, Walden, Town of Montgomery, Village of Wallkill, the town 0f Shawangunk and the local area with premier quality asphalt paving, blacktopping and sealcoating products & services.
Just as a picture frame can enhance a picture, a driveway or parking lot can enhance a home or business. DiMartino Paving and Sealcoating can improve the look and value of your property with a beautiful new asphalt driveway or black top parking lot - and make the path to your home or business look beautiful and inviting.
Remember, a first impression can mean a lot! DiMartino Paving & Sealcoating has been faithfully serving customers in the Newburgh and surrounding communities for many, many years.
DiMartino Paving is conveniently located in Walden NY., and provides the best asphalt paving and sealcoating services with free estimates and site consulting. DiMartino Asphalt Paving and Sealcoating is family owned and operated, so you can feel comfortable with the job - no matter the size - from start to finish.
In the Northeast a driveway or parking lot can take a real seasonal beating. When those "spider cracks" start appearing, call the experts at DiMartino Sealcoating & Paving to help prevent costly future re-paving with our professional sealcoating process, and insure a durable long lasting driveway that will hold up for years to come.
Free Estimates cost nothing - call us today for all of your asphalt paving, blacktop and seal coating needs in the Hudson Valley and the greater Newburgh, Montgomery, Walden, Maybrook and Wallkill, NY area.
History of Satisfaction! For over 25 years, DiMartino Paving has been a family run asphalt paving and seal coating business, and it is their number one priority and goal to stand behind every aspect of their work in an effort to keep you, the customers happy. Because at the end of the day, they want nothing more than to see their customers 100% satisfied.
DIMARTINO PAVING - FAMILY RUN - HASSLE FREE - SECOND TO NONE!
Like Us on facebook! https://www.facebook.com/dimartinopaving/