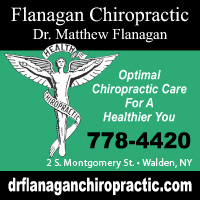 Flanagan Chiropractic located at 2 South Montgomery Street in Walden, NY provides quality chiropractic care and chiropractic back pain relief & services to his patients in Walden, Montgomery, Village of Wallkill, Pine Bush, Town of Shawangunk, Town of Crawford, and Hamptonburgh, NY. If you suffer from lower back pain, upper back pain - or lack of mobility, Dr. Flanagan can help. Call today!​
Dr. Matthew Flanagan graduated from New York Chiropractic College in Seneca Falls, NY. An Orange County resident for all of his life, More importantly, Dr. Flanagan is here to help the same community he has grown to love.
Both Dr. Flanagan and his staff look forward to meeting you and making you a part of their chiropractic family.
At Flanagan Chiropractic, the most common complaint we hear is a patient suffering from back pain. A healthy spine is a key component to an overall healthy you, so this is where our treatments start.
Even if you are in optimal health and suffer no pain, your spine may still have irregularities that may cause problems later on. Regular chiropractic care can help you maintain good spinal health and posture!
Flanagan Chiropractic in Walden, NY provides back pain relief, spinal pain relief, headache relief and joint pain relief from sports related injuries to his patients in Walden, Montgomery, Maybrook, Rock Tavern, Campbell Hall, Town of Hamptonburgh, Pine Bush, Village of Wallkill, Town of Shawangunk, Town of Crawford and surrounding Orange & Ulster County, NY communities.
We look forward to meeting with you to discuss your general health and chiropractic needs.
Flanagan Chiropractic - faithfully providing optimal chiropractic care for a healthier you!
Like us on Facebook! https://www.facebook.com/FlanaganChiropractic