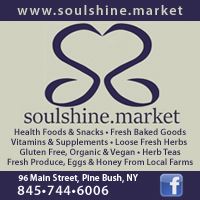 Soulshine.Market, formerly Heaven on Earth Natural Foods, is located at 96 Main Street in Pine Bush, NY is a natural health food store and local nutrition center that features health foods and snacks, vitamins & supplements, gluten free, organic and vegan health foods, fresh baked goods and holistic products to their customers in the Pine Bush, Walden, Middletown, Wallkill, Montgomery, Circleville and Wurtsboro, NY area.
JUNE 11TH - SOULSHINE MARKETS FIRST ANNUAL SHINEFEST AT THE TOWN OF CRAWFORD PARK IN BULLVILLE FEATURING LOCAL MUSICIANS AND VENDERS. BRING THE ENTIRE FAMILY! FREE AND OPEN TO THE PUBLIC.
THE SOULSHINE MARKET NOW FEATURES AN OPEN MIC EVENING THE SECOND MONDAY OF EVERY MONTH FROM 6:00 - 8:00PM FEATURING LOCAL MUSICIANS,SONGWRITERS, COMEDIANS AND POETS!
Soulshine Market is a local health food store located at the foot of the Shawangunk Mountains in Pine Bush, NY. Their family-owned business is dedicated to providing the best in nourishing food, supplements, and gift items for healthy living.
At the Soulshine Market they use organic and local produce whenever possible in their kitchen. Everything is made from the cleanest ingredients, including their own sauces and dressings, and they serve they serve gmo-free and vegan fare with gluten-free options always on the menu.​
More importantly, the Soulshine Market believes in their community. In addition to being involved in local organizations, charities, and events, they also focus on purchasing local products from their local neighbors. Also, they like to know their local customers by name, and are always excited to see new visitors.
Owners Keith and Valerie Hindley at the newly named Soulshine.Market in Pine Bush will personally direct you to all your healthy choices, and answer any questions to help keep you on a happy and healthy path & lifestyle.
Soulshine.Market has weekly specials on many items and special orders are always welcome, with most major credit cards accepted.
Soulshine.Market proudly features fresh baked goods, fresh produce, eggs & honey from local farms - and local health related foods and products from local farms, markets and businesses' in the Hudson Valley.
Soulshine Kitchen - At the Soulshine Kitchen in Pine Bush they use organic and local sources whenever possible, serving you the freshest, cleanest fare at affordable prices. Their food is made from scratch using long-crafted vegan recipes.
Soulshine.Market in Pine Bush, NY is your totally local holistic, organic and natural health food store.
Soulshine.Market Menu: https://www.soulshine.market/menu
Like us on Facebook! https://www.facebook.com/soulshinemarket/