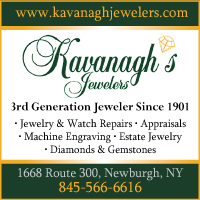 Kavanagh's Jewelers located at 1668 Route 300 in Newburgh, NY is a jeweler and jewelry store located in Newburgh, NY that specializes in jewelry sales, watch repair, jewelry repair services, custom engraving and jewelry appraisal services for their customers in the Newburgh, Wallkill, Town of Shawangunk, Marlboro, the Town of Marlborough, and the surrounding local area.
For the finest jewelry and best jewelry & watch repair services in Newburgh, Wallkill and Marlboro - Kavanagh's Jewelers has been the number one choice for families in Orange County for over 100 years.
Family owned and operated for 3 generations, Kavanagh's Jewelers is known for quality and professional service in all aspects of jewelry sales and repairs.
Kavanagh's Jewelers features a jewelry repair shop & gem laboratory right on the premises for your convenience, and watch repairs and jewelry estate appraisals are their specialty.
At Kavanagh's Jewelers they proudly feature custom machine engraving services, silver restoration, and quality diamonds & gemstones for that special someone - and they are always available for jewelry appraisals and jewelry repair consultation.
More importantly, Kavanagh's Jewelers in Newburgh always has on display a wide variety and selection of jewelry - from earrings, necklaces and bracelets, to pearls diamonds and gemstones - and a wonderful selection of gold and silver jewelry to enhance your look and presence.
Looking for an unique gift for a special occasion, maybe a wedding, bridal or baby gift?
Kavanagh's Jewelers can help! Kavanagh's has that special gift your looking for, and they also offer free gift wrapping and custom engraving services to personalize your gift.
Kavanagh's Jewelers specializes in wedding rings and custom wedding ring design. Call, or stop in today and visit their beautiful showroom!
KAVANAGH'S JEWELERS - 3RD GENERATION SINCE 1901 - JEWELRY & WATCH REPAIRS - APPRAISALS - MACHINE ENGRAVING - ESTATE JEWELRY DIAMONDS & GEMSTONES WEDDING & BRIDAL - GOLD AND SILVER
Like us on Facebook!