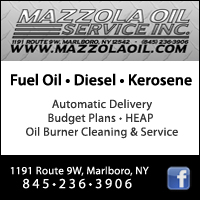 Mazzola Oil Service, Inc. located at 1191 Route 9W in Marlboro, NY is a family owned & operated home heating oil company that delivers home heating oil to their customers in Marlboro, Milton, Wallkill, New Windsor, Cornwall, Hamptonburgh, Walden, Washingtonville and the surrounding Hudson Valley, NY area with reliable automatic home heating oil delivery & cost efficient home heating oil budget plans.
Mazzola Oil Service In Marlboro, NY provides residential & commercial home heating oil delivery, heating oil, diesel, and kerosene sales to their loyal customers in Marlboro, Milton, the Town of Marlborough, New Windsor, Cornwall, Cornwall on Hudson, Wallkill, Walden, Montgomery, Washingtonville, Salisbury Mills, Chester, the Town of Blooming Grove, the Town of Shawangunk, Campbell Hall, Rock Tavern, the Town of Hamptonburgh, Goshen, Highland Mills, Central Valley, the Town of Woodbury and the surrounding Orange County, Ulster County and Dutchess County NY area.
Mazzola Oil Service, Inc. traces its roots all the way back to 1950, when Leo Mazzola, then a fruit farmer, decided to begin operations in the winter months as a fuel oil supplier.
Since then, Mazzola Oil Service has grown from humble beginnings, with one truck and just a few customers , to over 2500 Hudson Valley residents and businesses.
Mazzola Oil originally started out with little more than an idea and the help of a few enthusiastic staff and customers - and it was their energy that allowed them to keep growing.
Today, people are learning about their name, quality customer service, experience and reputation; thus propelling their home heating oil company to expand their capabilities, learn new things and reach more customers in the Hudson Valley area.
Family owned and operated, Mazzola Oil Service, Inc. specializes in quality customer service and competitive prices, and they provide 24 hour emergency service to all of their heating oil customers.
Also, Mazzola Oil Service in Marlboro, NY features automatic fuel delivery programs, budget plans and other money saving plans & discounts that are affordable and tailored to your specific needs!
Like us on Facebook! https://www.facebook.com/MazzolaOil/
Please log in to our new, convenient customer account link to become a new customer, or for our loyal customers to check on their account for oil delivery, billing and quality maintenance services!
We are always here for all your home heating oil needs!
For each and every delivery, your peace of mind comes from the assurance you're working with a team of professionals dedicated to providing the best possible service. THAT'S Mazzola Oil!
MAZZOLA OIL SERVICE - FUEL OIL - DIESEL - KEROSENE - BUDGET PLANS - AUTOMATIC DELIVERY - OIL BURNER CLEANING SERVICE - OIL BURNER SERVICE & REPLACEMENT BY MJK SERVICE