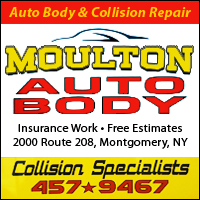 Moulton Auto Body located at 2000 route 208 in Montgomery, is a full service auto body shop and collision repair body center in Montgomery, NY that specializes in quality auto collision repair and auto body refinishing work. Moulton Auto Body also does rust repair, paint matching and minor collision repairs, and works with all major insurance companies.
Second generation family owned and operated, Moulton Auto Body has been providing the best auto body and collision repair services in the Montgomery, Maybrook, Walden, Town of Montgomery, Rock Tavern, Campbell Hall, Hamptonburgh, Town of Hamptonburgh, Newburgh, Town of Newburgh, Wallkill and surrounding Orange County, NY communities for over 32 years.
Chances are, if you have experienced a fender bender or serious collision, Moulton Auto Body has been recommended as the "go-to" body shop for all of your auto body and collision repair needs and services.
Because Moulton Auto Body is family owned and operated, the final product or completed job means EVERYTHING - and shows with every vehicle that leaves their shop. No job is too big or too small!
More importantly, at Moulton Auto Body in Montgomery, NY they will do their very best to help guide you through your auto body repair process - whether that means you need them to get on the phone with your insurance claims representative, or just need some help understanding the recommended repairs.
Whatever the case, they will provide you with any support you might need to get you safely back on the road and on your way!
Moulton Auto Body is conveniently located on route 208 about one mile south of I-84 (exit 5), please call or stop in today for all of your auto body collision, restoration and painting needs.
AUTO BODY & COLLISION REPAIR SERVICES IN MONTGOMERY, NY. ALL INSURANCES ACCEPTED - QUALITY WORK - QUICK, FREE ESTIMATES!
Like us on Facebook! https://www.facebook.com/moulton.autobody