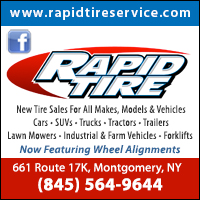 Rapid Tire located at 661 Route 17K in Montgomery, NY is a tire store, tire shop, tire dealer, tire sales and tire repair center in Montgomery, NY that provides full service tire sales and tire repair services to their customers in Montgomery, Walden, Wallkill, Goshen, Pine Bush, Newburgh, Beacon, Campbell Hall, Gardiner, Washingtonville, Circleville, Scotchtown, and the surrounding Montgomery, NY area.
RAPID TIRE NOW FEATURES QUALITY PROFESSIONAL WHEEL ALIGNMENT SERVICES FOR CARS & TRUCKS ALL MAKES & MODELS! CALL TODAY!
For over 38 years Rapid Tire Service of Newburgh has been serving the tire needs of their customers in the Hudson Valley, but now Rapid Tire has expanded with their new Montgomery location specializing in cars, SUVs, pickup trucks and recreational vehicles - the commercial, farm & fleet tire center is at the new Montgomery location, as well.
Rapid Tire in Montgomery is a third generation family owned & operated tire sales & service center specializing in tire related sales and repairs for family cars, SUVs, pickups, lawn mowers, snow blowers, golf carts and recreational vehicles.
Rapid Tire's newly designed Montgomery tire center is conveniently located only 2 miles west from their old facility on Route 17K.
More importantly, their newly designed tire center in Montgomery, NY is catered for families and residential customers - so it will be roomier, more family friendly, and better suited for their car & family customers.
Stop in today! Not only will you receive "rapid tire service" when you shop with us, but quality and excellent prices, as well!
Like us on Facebook! https://www.facebook.com/RapidTireService/