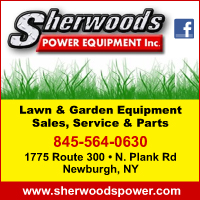 Sherwoods Power Equipment located at 1775 Route 300 - N. Plank Rd. in Newburgh, NY is a full service lawn and garden outdoor power equipment sales & service center, that repairs and sells' lawn mowers, snowblowers and outdoor power equipment to their customers in the Newburgh, New Windsor, Cornwall, Marlborough, Plattekill, the Village of Wallkill & local Newburgh area.
At Sherwoods Power Equipment they work hard to ensure the quality customer service you expect and deserve, and to that end they work tirelessly!
Sherwoods Power Equipment is regarded as the best in outdoor power equipment sales & service center in the newburgh area - even the manufacturers call us to help them on occasion.
Now in it's fourth generation, Sherwoods Power Equipment is an active member of the community - serving private and commercial customers, churches, schools, municipalities, federal government entities, and more.
More importantly, the knowledgeable owners and staff at Sherwoods Power Equipment in Newburgh look forward to meeting you soon for all of your outdoor power equipment sales and service needs.
At Sherwoods Power Equipment, they have a large selection of Ariens, Ryan, Toro, and much, much more. They also provide the option for you to rent the equipment that fits your needs on hourly, daily, weekly, or monthly basis - along with the option of buying or renting outdoor power equipment to suite your individual needs and circumstances.
Just to give you an idea of the experience they have, listed below are some of the various brands they carry, and how many concurrent years Sherwoods have been selling and servicing them. Of course they have carried other brands throughout the years (and even more than these currently!), but these have been their mainstays:
AriensSince 1950's
BOB-CATSince 1970's
STIHLSince 1990's
Toro Since 1960's
Exmark
Echo
Gravely
Toro
RedMax
Billy Goat
Sherwoods Power Equipment - they appreciate you!
OUTDOOR POWER EQUIPMENT SALES & SERVICE - TRIMMERS - LAWN MOWERS & SNOWBLOWERS SALES AND SERVICE - QUALITY REPAIRS
Like us on Facebook! https://www.facebook.com/SherwoodsPower/