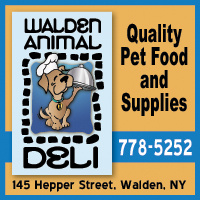 The Walden Animal Deli located at 145 Hepper Street in Walden, NY is pet supply & pet store serving Montgomery, Walden, Maybrook, Newburgh, Pine Bush, Plattekill, Wallkill, Washingtonville, Campbell Hall, Shawangunk and the local surrounding area - and features a wide variety of dog & cat food, animal feed, pet supplies, pet toys, and accessories for your pet.
The Walden Animal Deli has pet food, supplies and accessories for your dogs, cats, birds, reptiles; from the smaller critters like hamsters, rabbits, and chickens, to the larger ones like goats and horses - they have everything you need to keep your pets happy, healthy and active.
​More importantly, the Walden Animal Deli in Walden ​will gladly accommodate special orders for your special pet(s) needs.
​Walden Animal Deli also has in stock wild bird food and feeders, as well as farm animal feed and supplies for everything from chicks to llamas. Yes... llamas!
The ​Walden Animal Deli ​carries the best products for less - covering all your pets needs from the backyard to the barnyard!
PET STORE IN WALDEN, NY - PET SUPPLIES - DOG & CAT FOOD - PET TOYS DOG & CAT BOWLS, COLLARS, LEASHES - NESTING MATERIALS & WILD BIRD SEED & BIRD FEEDERS - PETS FOR SALE - SPECIALTY PET FOODS & SUPPLIES - CAGES & PERCHES - FLEA AND TICK CONTROL - SMILES!
Like us on Facebook!
https://www.facebook.com/pages/Walden-Animal-Deli/212440280904
The Walden Animal Deli is a family owned and run pet and pet supply store in Walden, New York, and they carry a wide selection of healthy pet food and supplies to meet most any pet's needs.
In addition to dog, cat, bird, reptile and small animal feeds, they also stock wild bird food and feeders as well as farm animal feeds for everything from baby chicks to llamas.
Their pet selection varies, but often includes rabbits, guinea pigs, hamsters, gerbils and reptiles, they also sell mice, rats and crickets and can special order other exotic and hard to find animals.
The Walden Animal Deli always invites you to bring your pets in for a visit!