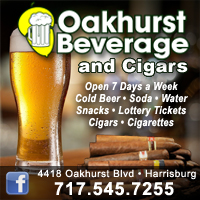 Stop in at Oakhurst Beverage & Cigars beer distributor. Looking for Ice Cold Beer by The Case, in 6 Packs, 12 Packs or Large Singles in Harrisburg, PA?
Oakhurst Beverage & Cigars is conveniently located in the Oakhurst Plaza just off Linglestown Road. We stock a large selection of Domestic Beers, Imports, Craft Beers and Micro Brews. If you need a special order we will get it and have it ready for pick-up. We accept major credit cards and have gift certificates available.
Stop in and choose from a wide variety of cold beers from our new 3 door coolers full of cold singles for our mix-a-six along with 24oz cans and 40oz and 22oz bottles
For a large selection of tobacco products including local cigars, imported cigars and cigarettes in Harrisburg visit Oakhurst Beverage & Cigars.
In need of Lottery Tickets, Scratch-Off Cards or Lottery Books in the Harrisburg area Oakhurst Beverage & Cigars has everything related to the PENNSYLVANIA LOTTERY.
Accepts Visa, MasterCard, American Express, and Discover.