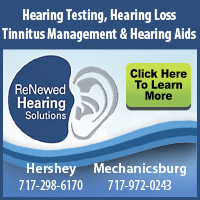 If you have hearing loss and need hearing aids or hearing testing in Hershey, call or stop in at ReNewed Hearing Solutions. They are conveniently located at 1106 Cocoa Ave. Hershey, PA17033 (just off Route 322) only minutes from Hummelstown, Middletown, Hummelstown, Palmyra, Harrisburg & Elizabethtown, PA.
To get the best professional hearing aids, hearing testing and hearing care Renewed Hearing Solutions has 3 convenient locations. The Hershey Office is located at 1106 Cocoa Ave. Hershey, PA17033 (just off Route 322) only minutes from Hummelstown, Middletown, Hummelstown, Harrisburg, Elizabethtown & Palmyra, PA. The Mechanicsburg Office on the West Shore is located at 817 South Market Street and is convenient to all areas on the West Shore.
At ReNewed Hearing Solutions we know that few things are more important than being able to fully hear the precious sounds you cherish. If you or a loved one has been experiencing hearing loss, ringing in the ears or other difficulties in understanding speech, we are your first step to better hearing. We offer affordable hearing solutions that utilize the most advanced technology available. Our expert teams of professionals are dedicated to comprehensive follow-up care. We look forward to doing our best for you or a loved one so you can hear life to the fullest.
Our Best Promise
We Guarantee the Lowest Prices on Hearing Aids and Hearing Services!
Our Commitment
Our commitment to patient care was built around the mutual agreement of honor, integrity and trust with each patient. As a part of the nationwide NuEar network, we aim to provide the greatest hearing care experience possible by abiding to the following standards that define Hearing Independence:
Comprehensive Evaluation
We evaluate your hearing, communication needs and goals for your life. Recommend Only What Needs Recommending.
Because we evaluate all your hearing and communication needs, we will recommend a treatment plan that is unique to you and designed to meet your needs.
Clear Understanding of the Hearing Journey and Results
We make sure that you understand what steps will be taken on your journey to better hearing and what the realistic outcomes are for those steps.
Seeing and Hearing the Benefit
We will verify that the hearing instruments and accessories that go with them are working and provide the benefit that you need. This verification may be done through several clinically adopted tools such as Real Ear Measurement, Speech Mapping or Sound Field Verification.
Treatment is more Than Just an Office Visit
We work with you to create a long-term treatment plan, define follow-up appointments, perform regular ongoing evaluations, and any additional care that you may need to make sure you stay satisfied with your hearing in the years to come.
Warranty for One, Warranty for All
When you work with NuEar, you are working not only with your local hearing healthcare professionals, but also the national network that will honor the warranty and support and service guarantees on all NuEar products.
Commitment for a Lifetime
All NuEar products receive free cleanings and testing for their lifetime.
Online Hearing Test Click Link Below:
https://www.renewedhearingsolutions.com/online-hearing-test
Testimonials
Just a couple of Renewed Hearing Solutions Testimonials. Visit their website for more.
You can get a hearing aid anywhere today, this is my 5th set, what matters most is the follow up and if they care enough that you are hearing the best you can. Maryanne and her team are wonderful, I recommend them to everyone
Jacques Lussier
I didn't know what I was missing until I got my NuEar hearing aids. Heather and the office personnel are extremely informative, helpful and pleasant. I highly recommend them to everyone.
Linda Smitley
Our Professionals
Maryanne Knaub H.I.S
Donald Shriner H.I.S.
Heather Sollenberger H.I.S.
2 Locations to Serve Your Better!
Hershey Office 717-298-6170
1106 Cocoa Ave. Hershey, PA17033
Mechanisburg Office 717-312-4865
817 South Market Street, Mechanicsburg, PA, 17055