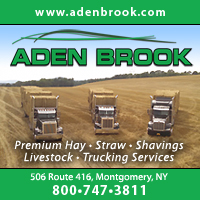 Aden Brook Farm located at 506 Route 416 in Montgomery, NY is a premier source for quality hay, straw and bedding products for their local customers and customers within their delivery region. At Aden Brook, they locally produce every grade and type of hay needed, and with 20 years experience, they have handled almost every type of hay delivery, quantity and quality request.
Whether you are a large or small customer Aden Brook is a premier source of Hay, Straw and Bedding - so you can depend on them for personal service catered to your specific needs.
More importantly, at Aden Brook they are dedicated to producing and sourcing every grade and type of hay & straw needed, and providing that product to their customers in the right size bale - and with the right size and type delivery to suit their needs efficiently year round.
With over 2 decades of experience serving customers in the Equine, Dairy, Construction, Government and Retail, Aden Brook Farm in Montgomery, NY is looking forward to providing all of your hay, straw, bedding and trucking delivery needs.
Aden Brook is also a wholesale distributor of Straw and Hay for erosion control, seeding and other uses. No matter how large or small your specific supply needs are, they have the product, inventory, expertise, equipment and trucking services to deliver your orders consistently and professionally.
LOAD SIZES - To accommodate the needs of our various customers from the smallest to the largest, the Aden Brook fleet of trucks are designed to haul almost any size delivery. Please call ahead for specific delivery truck and equipment applications to/for your specific needs.
EVENTS - Aden Brook has over 14 years experience supplying horse shows, fairs, races, photo shoots and events where large or small volumes of product are needed. Working with various organizations over the years they understand the needs, flexibility and time sensitivity that it takes to supply an event where product quantities can at times be a last minute decision.
PREMIUM HAY, ALFALFA, STRAW, GRASS, SHAVINGS & BEDDING PRODUCTS - OVER 30 TYPES OF HAY, BEDDING AND BALE SIZES